Kite Packaging Newsletter: December
Dear customers,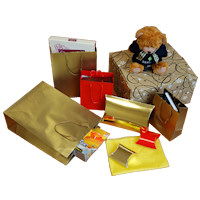 December has arrived, and Christmas is just around the corner. If you haven't already sorted out your gift packaging now is the time to get ordering!
Please note that the last delivery date made by our courier before the new year is Friday 21st December, so if you need your order before Christmas make sure you place it by 4:30pm on Thursday 20th December and select our Next Day service. Standard deliveries will need to be placed by 4:30pm next Tuesday 18th December.
With only a few working days left of 2012, it'll soon be time to look ahead to next year. Have you considered opening a credit account with us to make next year's purchases with us even easier? Now could be the time to invest in time-saving packaging machines such as our Mini Air Machine, Heat Sealers or Strapping Machines, enabling you to save on labour costs in the long term.
Merry Christmas from the team at www.kitepackaging.co.uk
Kristina