Kite Packaging expand their existing range of labels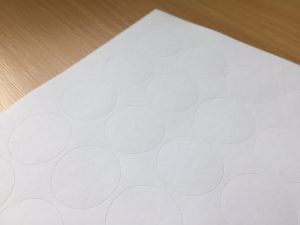 Employee-owned business Kite Packaging run a leading 'business to business' e-commerce packaging website, providing customers with an outstanding online user experience.
Continual product innovation is at the centre of Kite Packaging and after recently having reviewed their label offering and expanding the range to now consist of white universal labels on a roll and a multi-purpose range consisting of different sized labels with round or square edges, they have now added circular labels, in two different sizes.
The 70gsm multi-purpose white uncoated labels are compatible for use with laser, copier and ink-jet products and are manufactured under IS09001:2008. The permanent, acrylic based adhesive ensures good tack and adhesion on a wide range of surfaces.
Circle stickers are commonly used in the arts and craft industry and are a perfect way to add a custom look to anything users can think of, with them being so easy to print on and having a strong adhesive, enabling them to stick.
For more information on Kites products and services, please visit www.kitepackaging.co.uk.