Kite Packaging launch 'Do Not Stack' cones
Kite Packaging launch 'Do Not Stack' cones
Instantly recognise where products cannot be stacked within warehouse, distribution and dispatch environments
Ensuring product safety within warehouses, distribution and dispatch environments is vital, the damage of any product will incur a loss for businesses so taking extra precautions to keep products safe is essential.
As one of the UK's leading packaging distributors, Kite Packaging know only too well the importance of protecting stock within warehouse, distribution and dispatch environments. Their newly launched 'do not stack' cones provide a low cost, instantly recognisable way of identifying where products cannot be stacked on top of one another.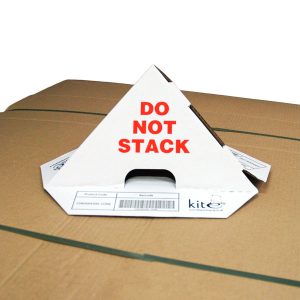 They are simple to use and highly effective, preventing pallet stacking where potential damage could be made to the goods or the integrity of the packaging. Supplied flat packed, the cones take up minimal space and are designed to be quickly assembled, saving time. They can be secured by either placing strapping in the feed-through holes or simply by taping them down to the pallet.
For more information on Kite Packaging and their products and services, please visit www.kitepackaging.co.uk.