Kite Packaging promotes automation as it introduces new carton sealing machines
The UK Packaging distributor has significantly expanded its range of carton sealing machines. With their efficiency boosting dynamics, the machines are designed to automate the pick, pack and despatch process – enabling the increasing of operational speed for a wide range of companies.
Kite has a reputation for continuously looking to innovate with the range they offer, in a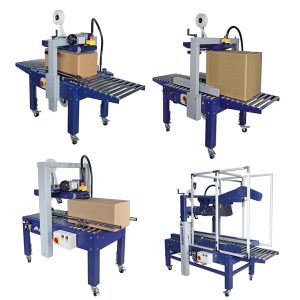 way that redefines traditional packing and accommodates the fast-evolving working environment. These machines are the perfect addition to busy packing areas in a world where automation is becoming a key factor alongside the growth of e-commerce.
These latest additions to Kite's vast product range are sure to set the bar high in warehouse operations due to their highly advantageous features and cutting-edge design. The range consists of four diverse carton sealers which are programmed to seal the top and bottom of boxes, thus safely, consistently and quickly securing their contents.
Robotape 50 TBDE
This model is equipped with motorised top and bottom gripping belt conveyors that ensure a constant mesh on the products. It efficiently seals a huge range of fixed carton sizes as its working width is adjustable by self-centring side guide units.
Robotape 50 ME
This innovative machine is installed with a lateral side motorised driving belt conveyor, therefore ensuring fast and efficient taping in the warehouse through its sophisticated design.
Robotape 50 TBDA
This automated machine removes the need for measuring box dimensions thanks to its sophisticated self-sizing tool which adjusts automatically to the current box size and it can also seal a variety of box sizes quickly and effectively.
Robotape 50 CF
This alternative, intricate machine features an automatic top flaps folding device and is also equipped with useful side belts which are ideal for uniform size boxes.
Kite is also a leading supplier of machine packaging tape, manufactured with a strong hotmelt adhesive. The tape is specifically designed for use with a carton sealing machine and adheres to all types of paper and cardboard.
This clear, polypropylene tape combined with a robust Robotape machine will provide businesses with the ultimate pick and pack operation. For more information about the new carton sealing machines or about Kite's other products and services, please visit www.kitepackaging.co.uk