Kite Packaging Reveals Kite AirShock System
FOR IMMEDIATE RELEASE
Kite Packaging Reveals Kite AirShock System To Exhibit At Packaging Innovations 2013
Kite Packaging will be demonstrating 'Complete Packaging Solutions' at the show in October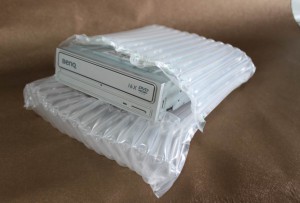 Kite Packaging, one of the UK's leading packaging suppliers; have revealed they will be demonstrating a brand new product – Kite AirShock - at this year's easyFairs Packaging Innovations Show, held in The Business Design Centre, London on 1st and 2nd October.
The Kite AirShock is a brand new product from the company, and will be demonstrated at stand B24 as part of Kite's 'Complete Packaging Solutions' philosophy. The new system has been developed so that it is suitable for a wide range of industries, but most specifically Kite have developed products that suit large white goods such as sinks and televisions - which they hope re-invent the way homeware and home interior stores package their products.
The Kite AirShock's are a range of air packs, manufactured from LDPE (Low Density Polyethylene) and PA (Polyamide) to improve air retention, they consist of several solid air tubes to armour even the most fragile of products. The packs are 98% air and 2% film, pioneering the way for environmentally-friendly solutions, which also reduce delivery costs and warehouse space. The products are also re-usable, recyclable and are designed to remain inflated for an extensive period of time with different sized tubing to suit different sized product specs.
The Kite team will be showcasing the entire range of AirShock packs, and everyone is welcome to come along to see the types of applications they are most suited to. This is also a great opportunity to ask a question about Kite's bespoke service providing, which aim to make the design, delivery and application of the packaging process much simpler and efficient for businesses.
A spokesperson for Kite who will be attending the show added "The Kite AirShock is a fantastic innovation that will revolutionise the way fragile products are packaged, to save on a number of cost variants and to reduce damages in transit. We are really excited to reveal and demonstrate it for the first time at the Packaging Innovations Show."
The Packaging Innovations show is now in its fourth year, sold out in 2012 it showcases packaging products from a number of packaging partners and design companies. To register a place at this year's show please visit: www.easyfairs.com
For more information about Kite Packaging, and its products and services please visit: www.kitepackaging.co.uk
-ends-