Annual Kite Day – Kite Packaging Turns 13!
We hope you all had a fantastic bank holiday; we certainly did as we celebrated our annual Kite Day in London, and wanted to share with you all the updates from the fantastic event.
Kite's History
Kite Day happens every year in May and celebrates our official birthday – and this year we turned thirteen. Not quite rowdy teenagers but a great achievement considering that back in 2001 we started with simply a vision and a number of employees who bought the very first shares in our little business. Today Kite packaging is an over £30 million turnover company and has 7 sites across the UK – not only this, but our employee owned ethos has continued throughout our growth, and we now have over 100 employee partners helping to achieve our vision.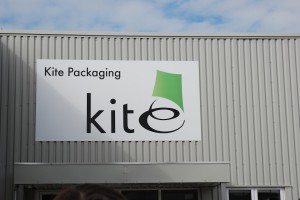 Our philosophy has always been 'customer satisfaction matters so much more when you own the business' and it has continued to form the basis of all the work we do here at Kite – from new products, website changes and operational decisions. We are now one of the largest distributors of packaging in the UK and aim to deliver the right product for our customers, at the right price and on time – every time.
Of course if you are a regular reader of the blog you know that we have made significant investment in the last 12 months, both in our people and our resources. Two new sites have been opened this year – a £5 million investment for Coventry and Rotherham. As well as this we have bought new trucks, significantly extended our product range and added three new automated packaging innovations to our portfolio with Mini Air, Wrap & Hold and Air Shock. This growth demanded a serious celebration, and boy did we celebrate…
Kite Day
Last Saturday (24th May) Kite hosted the biggest Kite Day ever in London. It was a world away from the first Kite Day we ever had, held at a hotel on the A45 in a marquee with little more than twenty Kite partners. This year's event was held on the Thames, and as we boarded the Silver Sturgeon ship it was a time to reflect on the hard work that had happened throughout the year. Awards were given to the most outstanding members of our external sales team, and to our 'Kite Heroes' who dedicated their evenings and weekends to ensuring the moves to our new buildings went as smoothly as possible.
Kite Packaging Chairman Bruce on board the Silver Sturgeon
The annual event is a great time for all our sites to get together, and catch up on what is happening across Kite in various regions. Financial successes were announced, fantastic news for our hard-working members of staff who continue to benefit from our growth through their share holdings.
Of course, all this could not be done without the continued support of our other partners – our suppliers and our customers. Your investment in Kite Packaging allows us to drive more investment in to the aspects that matter to your businesses, product range, improved services, new innovations and automated procedures to ensure your time spent with us is a positive experience. Thank you to all of you, and we hope you continue to share in our success.
If Kite sounds like the type of company you would like to work for please visit our Careers page now and let us know why you would be a perfect partner.
For more photos from Kite Day and other fun stuff please visit our Facebook page.