Kite Packaging's Swindon Regional Distribution Centre nominates The Lewis Moody Foundation as its chosen charity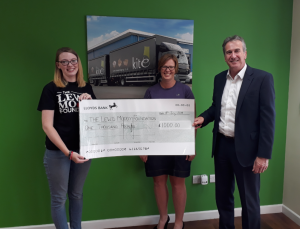 UK packaging supplier, Kite Packaging's Swindon Regional Distribution centre has named its 2018 charity which it will be supporting for the remainder of the year.
The Swindon based regional distribution centre is proud to announce its dedication and commitment to The Lewis Moody Foundation, an incredible team of people who are passionate about what they do.
The foundation gives families who are dealing with the difficulties and affects surrounding brain tumour diagnoses the much needed respite they need. The team dedicate themselves to raising awareness of the illness, and help give families to chance to create memories they will treasure forever.
Brain tumours are the biggest cancer killer of children and adults under forty, something the charity is passionate about changing. They have formed a partnership with The Brain Tumour Charity who fund pioneering research to increase survival, raise awareness of the symptoms and effects of brain tumours and provide support for everyone affected to improve quality.
Every year, Kite's seven divisions each nominate a chosen charity to support and donate to. The employee-owned company gives £1,000 to each of these charities to begin with and then continue to provide support and raise money for the organisations throughout the duration of the year.
A spokesperson for The Lewis Moody Foundation said:
"We are delighted The Foundation is Kite's charity of choice. The Foundation relies 100% on voluntary donations so the donation and support will really make a difference to the lives of those devastated by a brain tumour.
"The kind donation can help to fund our next Foundation Family Day, in partnership with The Brain Tumour Charity, to support adults and children living with brain tumours. Family Days help to give those living with a brain tumour and their family the chance to have some fun together and meet other people who can understand exactly what they are going through."
For more information about the charity and the incredible work they do visit https://www.thelewismoodyfoundation.org/.