Our Compliance Division Donates £1,000 to Leicestershire based hospice Loros.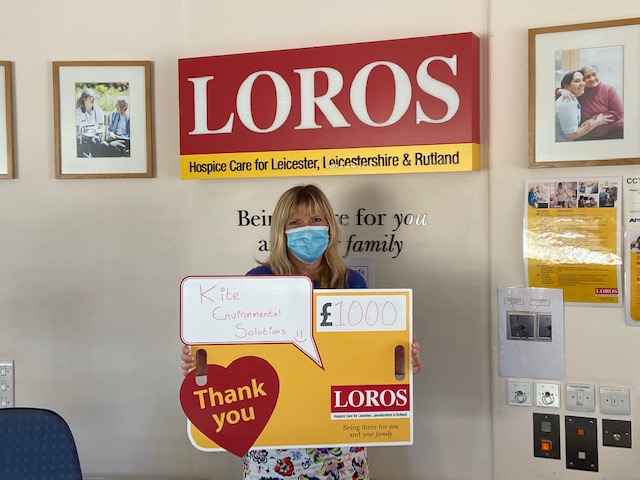 Our compliance division are delighted to have been able to donate £1,000 to Loros Hospice, a local charity that has been providing care to terminally ill patients and families across Leicester, Leicestershire, and Rutland for the last 30 years. The hospice's mission has always been to enhance the quality of life of adult patients with cancer, progressive neurological conditions, and end-stage organ failure for whom curative treatment is no longer possible.
The donation has come at a time where it is needed the most. With the recent outbreak of COV-19 it was inevitable that they would soon be dealing with Covid-19 patients. The hospice is working closely with hospitals in the country to ease the workload on them and provide a bed where possible. Clinical staff have also been deployed to main hospitals as well as through the community. As a result of the virus the charity estimates that is will have a shortfall of funding of around £1.2 – £1.4 million as fundraising events are cancelled or reduced.
Since the outbreak that atmosphere has significantly changed in the hospice. Usually there is a real hive of activity and buzz from the volunteers from the services that they provide to family and friends that visit, which they hope will return to normal soon.
There are lots of areas that can benefit from the donation which will be placed in a general fund for the hospice to utilise the money where it deems most appropriate. Some of the projects currently being funded include providing PPE or a new mattress for the Ward; or a refurbishment of our Social, Kitchen, and Dining Area and the Poly-Tunnel they are looking to build.
Partnership Development Coordinator Bruce Smith, has kindly invited us to visit the hospice once it is safe to do so, for us to be able to see the work and care that is provided and meet the people involved which we look forward to doing soon.