Kite's Top Picks at The Packaging Innovations Show
Will You Be There?
Next week a whole host of packaging businesses, printing experts and designers will congregate at the Business Design Centre in trendy Islington, London to meet with businesses and suppliers to chat about new innovations in our industry. Kite will be attending the easyFairs Packaging Innovations Show, on 1st and 2nd October with its 'complete packaging solutions', designed to help businesses with its service and design needs. But who else will be attending? In this post we take a look at the stands that have caught our eye, key highlights from this year's show and how Packaging Innovations can help with your business strategy.
Complete Packaging Solutions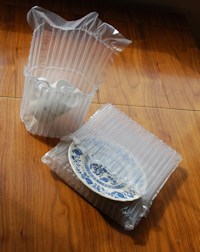 Well of course it's us! Kite Packaging Group will be based at stand B24 pioneering our 'Complete Packaging Solutions' philosophy and bringing with us a new protective packaging solution, called the Kite AirShock System. The new system has been developed so that it is suitable for a wide range of industries, but most specifically to suit large white goods such as sinks and televisions.
The Kite AirShock's are a range of air packs, manufactured from LDPE (Low Density Polyethylene) and PA (Polyamide) to improve air retention, they consist of several solid air tubes to armour even the most fragile of products. The packs are 98% air and 2% film, pioneering the way for environmentally-friendly solutions, which also reduce delivery costs and warehouse space. The products are also re-usable, recyclable and are designed to remain inflated for an extensive period of time with different sized tubing to suit different sized product specs.
We will be showcasing the entire range of AirShock packs, and everyone is welcome to come along to see the types of applications they are most suited to. This is also a great opportunity to ask a question about Kite's bespoke service providing, which aim to make the design, delivery and application of the packaging process much simpler and efficient for businesses.
Luxury Packaging
If your business is a luxury lifestyle brand or retailer you'll be looking for packaging that really stands out and reflects your brand values in the materials and design of your packs. If you are a boutique owner or clothing retailer the bags you supply your products to customers in is a walking advertisement. Direct Source Packaging, a manufacturer who will be based at stand D25 will be showcasing its environmentally friendly reusable totes as well as a whole host of other luxury paper bag products. Direct Source are a specialist company with a keen eye for detail, and in particular create eye-catching prints to make your packaging products more memorable.
Cosmetic Innovations
Spanish packaging designers, Faca Export have also decided to bring a touch of luxury to this year's show with their range of rigid plastic containers that will hold small make-up sample sizes such as lip-gloss. The round balls in chic contrasting colours can easily fit into a handbag or purse and are sure to be one to watch for the cosmetic market. Faca Export will be demonstrating these 'cute' new products at stand E5 and will be offering custom designs to suit a wide range of brand identity's.
What's more, if you're a cosmetic brand or representative from the beauty industry we would highly recommend attending the 'Beauty Symposium' - a full programme of speakers who will be talking about beauty packaging in depth, as well as design elements and how to make the most of POS. It takes place on the Tuesday (1st October) from 10am - 1pm in the Keynote theatre of the BDC.
Healthcare Packaging
If you are looking to start a business supplying vitamins and other supplements, you may well be looking to create your business as an online only retailer. If that's the case then a key tactic you need to consider is the mailing out of your items. J&J Pont Pack will be showcasing on stand A27 its new range of HDPE (High Density Polyethylene) containers especially for this market. The products have been designed so that they are slim enough to be regarded as a 'large letter' by the Royal Mail PiP regulations, reducing shipping costs for e-commerce vitamin businesses.
Design and Branding
The Brand and Design Village is a famous addition of the exhibition and has been designed to take companies through the entire packaging and branding process, from initial development through to brand awareness and marketing. It will be packed with a number of specialist design agencies, ideal if you're a business embarking on a new project or re-brand.
Seminars and Discussions
A great way to learn about packaging innovations and future plans for the industry is to hear from the experts and this year a plethora of speakers will be discussing a number of topics aimed to help your business. Packaging is often thought of as the 'silent salesman' for its influence on consumer decisions but there are other things to consider too, cost savings, environmental benefits and space saving are all top of companies lists for the coming year to improve efficiency - and packaging can help with that.
The BIG Packaging Debate is sure to be an interesting discussion with big names such as Innocent Drinks, M&S and IoPP on the panel to join attendees in the big question - Will online sales kill packaging design? Take your seat in the Keynote learnShops Theatre at 3.30pm on 1st October.
And if you fancy a smaller discussion, for absolutely free why not attend the learnShops free seminars? These will be taking place throughout the event on both days in half an hour slots and will focus on brand building, buying trends, persuasive design, labelling and much more. This is a great chance to hear from leading packaging technologists, designers and strategists in order to become a packaging expert overnight.
Get Appy
This year, easyFairs have launched a handy app for all you iPhone users out there (sorry Android!). The app can be downloaded now from the easyFairs website and will guide you through the show with an interactive map, programme timetable and exhibitor catalogue. You can even locate your car in the car park when you leave!
See You There!
We hope you'll be attending this year's show, and we'd love to speak to you - so come along to B24 next week and ask us anything, we'll be happy to help.
Let us know if you'll be coming along on Twitter - @kitepackaging