Kite's World Cup football tournament was a success!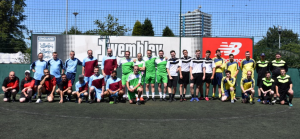 Who's been getting in to this year's World Cup? After last night's penultimate, nerve racking penalties, most people nationwide are getting in to the celebratory spirit!
However our Kite team took their love for the worldwide tournament to the next level on Saturday by creating their very own World Cup competition.
The day saw our co-workers from around the country come together and play a football tournament to raise money for Midlands based Zoë's Place.
It was a huge success with seven different teams made up of employees from our different regional distributional centres.
With the glorious weather and promising turnout, they managed to raise a fantastic £450 for Zoë's Place. Our Letchworth branch won the tournament with Rotherham coming runners up, all in all a fantastic day!