Labelling products for mail order and dispatch
Following on from our recent blog posts looking at outer and inner packaging for mail order and dispatch and sealing and branding we are now looking at the final step of labelling. It's the final step to ensure your package arrives at the right destination and the advisory stickers/tape give instructions to the couriers handling your items.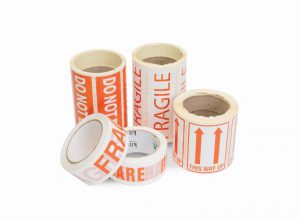 Document enclosed wallets are a quick and easy to use product that ensure your invoices and delivery documents arrive safely attached to your parcel – available in plain or printed.
Kite's 'fragile' printed high-quality Polypropylene tape allows users to clearly mark packages. With a red bold print on a white background, it is clear to see and informs handlers of handling requirements
Handling and Hazard warning labels from Kite are the ideal solution to ensure boxes/parcels are handled in the correct manner. On a roll for easy application, the bold red text on a white background gives a clear and simple message.
Lastly, why not check out our large range of standard printer labels, perfect for everyday office use and compatible with most laser printers and copiers, Kite's range of high-quality labels are the perfect addition. Whether you are looking for our curved or square corner labels in a variety of sizes and layouts or a range of round labels (commonly used within arts and crafts), our labels give a good print result and have a permanent acrylic based adhesive with good tack and adhesion that secures to a wide range of surfaces.
For information on these products visit our website www.kitepackaging.co.uk or call 02476 420065.