'Load Retention & Stretch Film – Are You Safe?' – An Industry White Paper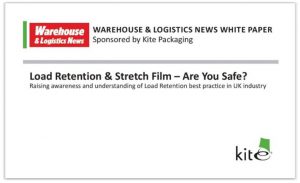 86% of businesses surveyed use stretch film, however, 74% have never had a professional stretch film audit.
Businesses have a responsibility for workplace safety and one of the biggest areas of safety that needs addressing is Load Retention.
This involves ensuring that loads are adequately secured while being moved on public roads, in the business, or in storage, minimising the likelihood of objects or whole loads coming loose and falling. Negligence carries harsh penalties: businesses can lose Vehicle Operator License', face prosecution and the prospect of corporate manslaughter.
In this white paper, sponsored by Kite Packaging in-conjunction with Warehouse and Logistics News, issues surrounding load retention and the available solutions are examined, as part of Kite's commitment to leading the industry and helping everyone derive the maximum possible benefit from this technology.

Kite Packaging sponsored this white paper carried out by Warehouse and Logistics News.
Some key findings from the research:
84% of businesses use stretch film on loads that will be transported on public roads
In 2013 over 20,000 UK road accidents were caused by shifting loads
Companies can be held liable for corporate manslaughter