Loose Fill Alternatives – The Packaging Doctor
One of the biggest trends in the packaging industry at the moment is developing and finding suitable alternatives to traditional loose fill products. Loose fill has a wide variety of benefits as it is cheap, can be biodegradable and is perfect for quick and easy packing as it can easily fill even the smallest of voids to ensure your product is protected and absorbs shock during transit.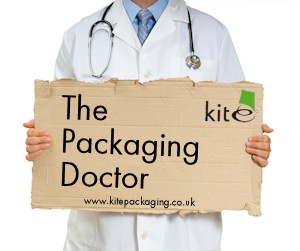 However, loose fill can also be incredibly messy, difficult to store and take longer to use than products such as air cushions, paper and bubble wrap – or can be completely eliminated with the introduction of innovative products such as Kite's Wrap and Hold or Air Shock. In some cases though businesses are perfectly happy with a loose fill product, or may not have the capacity to introduce automated processes. That being said, loose fill is manufactured from polystyrene that has the issue of being flammable, and when piled up in a warehouse can pose as a significant fire risk.
Take a look below to see what I offered Phil as a good alternative to traditional loose fill, which also calmed his nerves about potential fire hazards.
Dear Doctor
I am in need of some advice.  I currently buy loose fill in large quantities as a packaging solution for my business but my issue is the safety of the storage of the product.
With my storage space extremely limited in my warehouse, I fear that if there was a fire the current loose fill that I use could make it a lot worse due to it being so flammable.
What can you suggest I do to eliminate this hazard?
Thanks, Phil
Hi Phil,
Thanks for your question. It is really important for anyone whilst selecting their packaging solutions that we consider the price and quantity of the products but also the practical implications such as storage space available and products that help minimise health and safety risks in the workplace.
To minimise the risk of fire in your warehouse, I would recommend that you consider the use of Vermiculite loose fill chips as an alternative to polystyrene.
Vermiculite is a great alternative; it is 100% natural with a mineral base, is light weight and highly absorbent. These chips have numerous uses and by simply pouring around your product voids are filled.
The chips are fibre free and fireproof, so have the additional bonus that they are suitable for packing hazardous goods and help reduce the risk of spreading of fire.
Hope this helps.
Best wishes,
The Packaging Doctor
Note: All the packaging problems our doctor receives are real queries from customers or non-customers.
If you have a packaging problem that needs diagnosing get in touch on Twitter @kitepackaging or email packagingdoctor@kitepackaging.co.uk