Making The Most Of Trustpilot Reviews
Since January 2014 Kite Packaging has been involved in a partnership with Trustpilot, where we collect customer reviews from real customers who have ordered through the website or via our friendly sales team over the phone about our overall service. Trustpilot can be used in many ways, and we have seen some great marketing uses for positive reviews and use of them in Google search results.
However, Kite quickly realised customer reviews were much more powerful than a tool to simply promote a brand or service, and found that these reviews allowed us to form a real relationship with our customers. Buying online can often feel quite impersonal for purchasers and at Kite we like to make all our customers feel like partners, this is why we reply to every single review we receive – good or bad – and are the only packaging company in the UK to do so.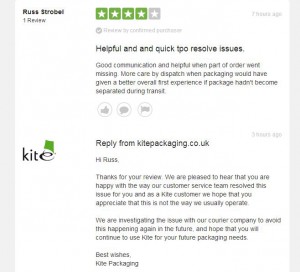 Our teams love to hear the great things you have to say about our business and all your comments are passed on to the departments responsible. So if you have said you love our products and prices our purchasing team hears about it, if you think our customer service is second-to-none then our helpful service desk listens, if you received great delivery our warehouse and carriers know and if you have spoken to someone who helped you with your order and account set-up from start to finish then you can guarantee we've told the internal accounts team. All your great comments provide a valuable motivational tool to our employee partners, who are proud to own our company and deliver their best each and every day.
A variety of Trustpilot reviews are posted on the Kite Online information board
As well as this we have made Trustpilot a key driver in our decision making processes for the business. Many of our new projects and operational strategies going forward have been developed from what you have told us, and we couldn't have done it without you. Since Trustpilot has been integrated with our order process we have been made aware of some things that you feel could be improved, one example of this is the packaging of our products to ensure they arrive at your door clean, tidy and ready to use.
In our Warehouse, each morning, our Warehouse Manager Simon gathers our Kite operatives and delivers updates and targets for the day. Included in this are copies of your reviews about our packaging, and a demonstration for best practices when it comes to wrapping, bagging and labelling your goods. These meetings have become integral to the way our Warehouse is run and in a short space of time we are receiving fantastic feedback from customers about the presentation of their goods.
Demonstrating how to properly package postal tubes
And that's not all! If you feel we could offer a bigger product range then these are added to our purchasing teams list of projects so that they can find the best quality and most competitively priced range for you, and in many cases we have looked at our price breaks and spare parts to develop better and cheaper goods that work for your business. All this and more is the reason why we love getting customer feedback, so next time you order from us and have a spare five minutes please head to the Kite Packaging Trustpilot page and tell us what you think.
Thanks for your continued support and for keeping Kite flying high!