Mini Air Cushion For Comfort
At Kite we love to see all the wonderful ways in which you use your packaging, whether it's being creative with recycled packaging, using it for an exciting project, or just for your comfort, we love to see it all!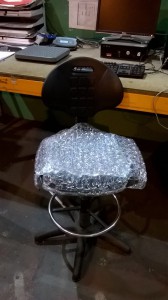 We are lucky here at Kite as we are surrounded by creative people and get to see creative creations made with packaging. This week, Jo from our Midlands Branch showed us a great use for our Mini Air Cushions – added seat protection. The Mini Air Cushion was inflated using Kites Mini Air Machine and then placed around a computer chair, making it the perfect cushioning for extra comfort.
However if you do not see yourself as a creative person our Mini Air Cushion is the perfect addition to packaging requirements, it is commonly used as protective packaging, void fill and for corner protection and is very cost efficient - use our 'mini-air calculator' to see the cost savings when switching from bubble wrap to air cushion. We offer a range of cushion types to allow for all types of packing and products, which range from large filler cushions to small wrapper 'quilt' cushions that are similar to bubble wrap.
To find out more about our Mini Air Cushion visit www.kitepackaging.co.uk
Get In Touch!
Have you made something out of packaging? Or tried your hand at any of the above projects? We want to hear from you! Share your picture on our Facebook wall or with us on Twitter .