Corrugated Cardboard Innovations We Love
If you follow Kite on Pinterest or Twitter you'll notice we are all about celebrating packaging innovation from all over the world, this includes interesting new ways to protect products, new materials and beautiful packaging designs that really catch the eye. Not only that, but we love the latest innovations designers have done with the humble corrugated cardboard.
Corrugated cardboard is an important material in our business and has many advantages, it is easy to work with, can be printed on easily, provides adequate strength, can be manipulated to provide further strength and protection and is a cost effective material that many people choose to package their products in. Perhaps that is why so many designers have used it in their own work, creating amazing structures and art with the material, giving a deep 3D effect which really stands out. Corrugated cardboard designs are also leading the way for sustainable design, as it is fully recyclable and often made from already recycled board.
Take a look at our top picks of these innovative designs below, and if you've enjoyed reading this blog post why not follow our 'More Than Boxes' board on Pinterest?
Christchurch Cardboard Cathedral
On February 22nd 2011 a devastating disaster took place in New Zealand's second most populous city, Christchurch. An earthquake hit the city, destroying buildings in the central city and eastern suburbs, in damages that were estimated at $40 billion, and killing 185 people.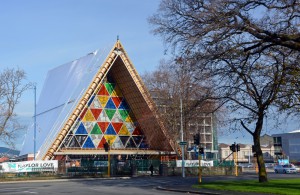 Amongst the wreckage was the Christchurch Cathedral which suffered irreparable destruction. However, Japanese architect Shigeru Ban has bought a symbol of hope to this community with the 'Cardboard Cathedral', the world's only cathedral made substantially of cardboard, which opened its doors to the public on 15th August this year.
The Cathedral is an impressive structure by anyone's standards, standing at five storeys high and the main hall being able to seat 700 people. The Cathedral has been constructed using 98 60ft long cardboard tubes to form the structure, protected by a polycarbonate roof for weather resistance. Shigeru has also claimed that the building will last 50 years, and best of all paper buildings such as this are actually much more earthquake resistant than concrete ones as they absorb the energy and offer more strength under tension.
We love this design, and most importantly the emotive meaning it has behind it - to create a sustainable environment in Christchurch and carry on the message of hope after such an awful event. Hopefully this will spark a new trend in paper buildings to recover our own economy, cardboard is readily available and low-cost - this design could spark something in the building industry to invest more in sustainable architecture.
Cardboard Celebrities by Giles Oldershaw
One of the things that makes cardboard so strong and tear resistant is the number of layers one piece has, including and inner and out layer of paper as well as the corrugated middle which can come in a range of 'flutes' - that's the wiggly bit of board sandwiched in the middle - which can give different amounts of strengths.
Giles Oldershaw is a British artist with a definitive talent for print-making and portraiture, the art of creating portraits of people using a variety of materials. Most recently he has exhibited a number of celebrity portraits, created out of cardboard, in which he tears off parts to create a shadowing effect to define a face.
Our favourite is the Marilyn Monroe picture, a true icon. The added 'please recycle' message is fun and quirky, very Warhol reminiscent. Oldershaw has also created Greta Garbo, Isabella Rosselini, Bette Davis and many more iconic figures in his work which he calls 'Cardboard Relief'.
These pieces of art aren't pretentious, and anyone can buy them from Giles' website or even have a piece commissioned such as a family member of favourite icon. These pieces can then be enjoyed for as long as you want and then recycled - a brilliant way for everyone to enjoy art in an environmentally friendly way.
Cardboard Furniture by Sanserif Creatius
We first came across Sanserif Creatius, a Spanish design company back in March where they had launched the Bold Type Chair, made from 100% biodegradable cardboard. The structure is completely screw-free and has simply been formed using 5mm thick sheets of board stacked up. This creates an impressive effect on the chair, with the flutes and ridges visible to form a stunning pattern, which makes the letter 'B' it is carved in to stand out even more.
As if that wasn't enough the Sanserif team have created several other products using the same concept including the 'Hair Chair' which is similar to the Bold but with a furry covering for extra comfort, the 3-in-1 'Prejudice' chair which hides a cardboard footrest and table in the seat as well a separate 'O' Typeface footrest.
The great thing about these designs is that as well as being incredibly inventive and sustainable they also look amazing. In a modern living space these are sure to take centre stage and don't worry about them being crushed - in a compression test the chair alone was able to withstand 2,000 lbs of pressure.
If you have any comments about this post, or would like to get in touch, follow us on Twitter - @kitepackaging