Moving House Abroad – The Packaging Doctor
Moving house is a stressful time for anyone. Not only is it emotionally draining, it can also become a costly and timely task if not planned carefully. Removals is a huge industry for us here at Kite, we even have a dedicated 'Removals Packaging' section on the website, and although as a business-to-business operation we mostly supply materials to removal companies and 'man with a van' operations, we occasionally get requests from individuals looking to make a large move abroad.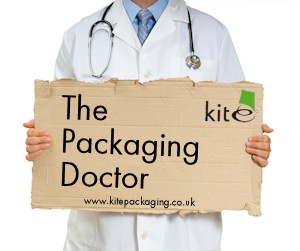 This involves air freight predominantly, and packaging is extremely important to consider especially if you have precious and/or breakable items which can be damaged in transit.
Today in the surgery we look at a patient who is packing up her belongings and relocating to the Caribbean! Read below how I provided her with a complete packaging solution to aid with the moving process, and try not to get too jealous as you imagine her moving to a tranquil beach paradise in the sun…
Hi Doctor
I recently got married, and my husband and I have made a life changing decision to pack up our belongings and move to Jamaica to start our marital life together.
As glamorous as that sounds we now face reality and realise that we have huge task ahead of us…. We have to pack our whole house into a 20ft container!
We are looking for a solution that is both cost effective and practical. Clothing and furniture are especially important to us, with some pieces being extremely sentimental, and we would be heartbroken if anything happened to them.
Can you help?
Thanks,
Julie
Hi Julie,
Firstly, congratulations on your wedding and your decision to pack up and set sail, it sounds like very exciting times lay ahead for you!
This is an issue that I see in my surgery quite frequently and is a life changing event that affects nearly all of us at one point in our lives, so it is essential that we get it right first time round. The solution that I have for you is easy, affordable and extremely practical, so that you can pack up all of those loved items from your clothes through to family antiques!
Firstly, the foundation product to this move will be the use of our boxes. We offer a range of single and double wall boxes - depending on what objects are going in what will depend on the strength required during transit. Our single walls are designed with one single layer of sturdy cardboard so will be ideal for lighter weighing objects, however our double wall boxes are made with 2 layers of corrugated board, so will be more suitable for those heavier items.
To ensure your clothes are protected, I would use our large polythene bags. These are a simple, effective packaging solution, available in a range of sizes, and protect the clothing against dust and moisture. I would recommend light duty for this application, although you may want to use medium duty if you have a lot of clothing, and heavy items such as jumpers and jeans (although I don't know how much use they'll be in sunny Jamaica!). To ensure that all moisture is kept at bay, insert a few of our silica gel sachets into the boxes to absorb any excess. Atmospheric moisture can cause transit damage, and is a common problem when goods are shipped abroad due to the change in climate. Silica gel ensures that packages remain dry, and are extremely reliable little sachets of innovation – you'll need 5 grams per cubic foot of volume so make sure you know this before ordering.
Now let's consider your furniture. I would recommend wrapping and covering furniture in our single-faced corrugated rolls – these are manufactured with raised corrugated fluting to provide protective padding and cushioning from impact, and will help protect against those unwelcome scuffs and bumps, aiding the smooth transit of your much loved furniture.
Remember to seal up all your boxes with our acrylic polypropylene tape – this is ideal for ambient temperatures as it remains intact in warm weather. To ensure the boxes are suitable for a 20ft container I would then recommend palletising you goods, use a lightweight presswood pallet to stack the boxes on (you can read about why these pallets are better for air freight here) and wrapping using our black pallet wrap. This wrap securely adheres itself without using tape or glue provides extra security and confidentiality for your belongings.
Hope this helps!
The Packaging Doctor
Note: All the packaging problems our doctor receives are real queries from customers or non-customers.
If you have a packaging problem that needs diagnosing get in touch on Twitter @kitepackaging or email packagingdoctor@kitepackaging.co.uk