National Children's Craft Day
National Children's Craft Day!
As the evenings are starting to get lighter, what better way to spend your spare time than doing crafts with your children. Today is National Children's Craft Day and is an attempt to bring awareness of crafting to children.
In true Kite style, we are here to give you some great ideas on how you can be creative with packaging and with Easter coming up what better time to start. The possibilities of crafts to do with your children are endless and can be done with recycled packaging.
We are passionate about our blog and industry so when our colleagues stumble across interesting and packaging related wonders, we want to share them with you.
Vic from our Midlands branch came across one mum's genius cardboard kitchen, Rodessa Villaneuva-Reyes, from the Philippines, created an entire kitchen out of old cardboard boxes. Netmums.com shared this wonderful creation with the internet giving parents some inspiration. Rodessa Villaneuva-Reyes, created the main kitchen from cardboard boxes before using sticky vinyl coverings to create the realistic-looking cupboards; she finished by adding toys for an authentic feel. We love it!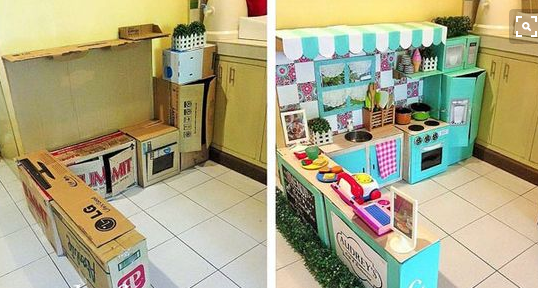 As we can appreciate this masterpiece would have took a lot of time, so we have created a Pinterest board to give you a collection of pieces for inspiration, see https://www.pinterest.co.uk/kitepackaging/national-childrens-craft-day/  for more great craft ideas to celebrate National Children's Craft Day.