FFollowing continued work on research and development, in response to customer demand, we have launched our latest innovative product, a patented range of Grey Air Shock Mailers. Designed to improve protection for industries such as e-commerce and businesses that send out items such as bottles, perfumes, glass, jewellery and electronics, this product utilises the full benefits of Air Shock - one of the most popular recent editions to our range.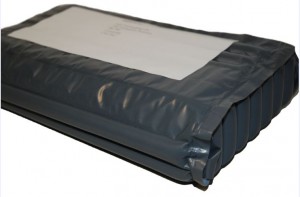 Unique to us, our highly protective Grey Air Shock mailing bag is available in small, medium and large sizes and offers an array of benefits. Sending out delicate and fragile items, particularly though 3rd party couriers, can often lead to companies 'over packing' because of the concern a product is not being adequately protected. Our new Grey Air Shock mailer is designed to give maximum protection and has the benefit of adding perceived value to products whilst still being cost effective.
Manufactured with an integrated inflation valve, this product is quick and easy to inflate making it ideal for customers despatching low or high volume quantities.  The outer bag is manufactured from tough 75 micron polythene, with a 50mm highly adhesive peel and seal strip to ensure the package arrives fully secure. The grey outer provides added security as contents inside cannot be seen with the material also guaranteeing that adhesive address labels secure well to it.
Delivered un-inflated, our Grey Air Shock Mailers are easy to store, minimising the amount of space required. Quick and easy inflation can be done simply with compressed air for high volume users, or if you require a low volume a hand pump is ideal.  If Grey Air Shock Mailing bags are not what you require, we also offer a wide range of mailing products to suit a variety of customers such as Grey Mailing Bags, Air Shock, White Postal Boxes and Void Fill.
To find out more visit www.kitepackaging.co.uk