Our North East Regional Distribution Centre has donated £1,000 to Grace House
Our North East Regional Distribution Centre met with the team at Grace House last week as they presented them with a £1,000 donation.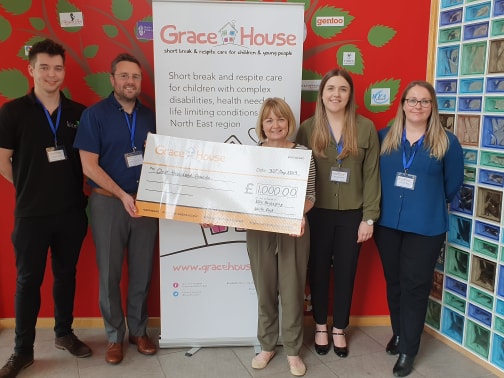 This donation comes since we expanded our presence to service the North East, providing our team there with the opportunity to support a local charity.
Our team in the North East chose Grace House as their 2019 charity, who offer specialist short break care to children and young people aged between five and eighteen living in the North East and who have complex disability, autism or health needs.
Grace House is a fantastic charity, overseeing children and young people of these ages coming to stay for planned, regular mini-breaks, where they can fun and enjoy as they spend time with their friends, in a home from home environment that can meet all their needs.
Corporate Fundraiser Laura Jane Forbes welcomed our staff members to Grace House and said:
"We are absolutely delighted that Kite Packaging have chosen to support Grace House with such a fantastic donation. We rely heavily on support from the local community and the generosity of Kite Packaging really will make such a big difference to the children and families we support."