Our Rotherham Regional Distribution has nominated Olly's Fund as its 2018 charity
We're proud to announce our Regional Distribution Centre in Rotherham will be dedicating its support to a local charity, Olly's fund!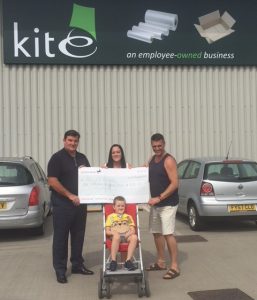 The incredible charity raises funds for Olly, who suffers from Duchenne Muscular Dystrophy, a genetic disorder characterised by progressive muscle degeneration and weakness and also raises funds for the research of the disorder.
Some types of Duchenne Muscular Dystrophy eventually affect the heart or the muscles used for breathing, at which point the condition becomes life-threatening.
Currently there is no cure for Muscular Dystrophy, but treatment can help those who suffer from the disorder to manage many of the symptoms.
We hope to raise awareness of Duchenne Muscular Dystrophy and raise funds to support Olly in his day-to-day life.