The packaging that makes you want to scream.
If you follow us on Twitter, you may have noticed we took part in a Tweet chat - #packchat - alongside Packaging Innovations and other packaging enthusiasts last week. It was a great way to engage with other packers, and the subject quickly turned to #wraprage where everyone got off their chests the packaging that infuriates them.
From being in the packaging industry and seeing these types of problems all the time, we thought a pack rage blog post was in order, and took the tweets to our packaging experts to develop some alternatives and #packhacks to open the annoying packaging easily. Hopefully, this will spark a little light bulb inside some businesses about listening to customers' needs in terms of packaged goods. This idea has also been pioneered by our friends at Packaging News, who have worked with a number of consumers in their 'Consumer IQ' campaign (sponsored by Payne) where customers have already shared their views publicly about pack open ability and re-sealable packs. You can watch the videos here.
Pack Rage Problem #1: Blister Packs
Ahh blister packs, such an ingenious invention for packing small items but the number one frustration for consumers. The problem here lies in two parts, the first being lack of knowledge in which products need to be packaged in this way. Blister packs for some companies are absolutely necessary as they are the most cost-effective way of packaging items that are high-value, prone to theft, potentially dangerous and will be sold in a retail environment where clarity and attractive packaging is a must. However, they are often misused for items that don't need such security; such examples include hair accessories, beauty products and office products such as paper clips.
The second, is that blister packs often lack information on exactly how to open the pack, the best blister packs will use pop in place technology so that customers can simply 'un-pop' two buttons on the closure to lift open the pack to access their product. Also, a new innovation that has been pioneered is easy to open blister packs, which have a fold away tab so users can simply peel back the packaging - this has been used on mobile phone accessories such as headphones and cases most notably.
In terms of alternatives often a small box with a hanging slot is a more suitable option, for clear point-of-sale packaging a similar box method can be used with a die cut-out at the front, protected by clear film to show-off the product. If you are still having trouble with blister packs though, our top pack hack is to open them with a can opener, the sharp cogs easily cut through the plastic, simply place at the side of the pack and turn!
Pack Rage Problem #2: Cling Film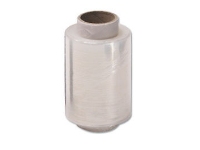 The Tweeters were going crazy over this last Wednesday, not only are cling film boxes hard to open but cling film over packaging was another frustration for messy opening. The main annoyance with cling film boxes is that they are difficult to open and risks the consumer from cutting themselves on the serrated edge once inside, what's more after that task has been completed you are faced with unwinding the cling-film - it definitely does its job, clings to everything!
The problem here is that cling film packaging hasn't really changed much and innovation is really lacking here. Further research and consumer testing is most certainly needed, however a suggestion the team at Kite came up was that the cling film should already be unwound when opened, this could be achieved with a cardboard strip at the beginning of the roll that overhangs the box so that it can easily be rolled off and applied by the user.
Cling film provides a good protective covering for many products, commonly used for vegetable and fruit packages, however damp hands or mountains of wrapping often proves difficult - and no-body likes cling filmed fingers! An easy solution is quite simply taking the 'less is more' approach; one layer is all that is needed. Alternatives could be a more robust, peel able cellophane wrap instead or a plastic lid covering as seen on small boxes of fruit such as raspberries. The typical card serrated edge also needs to be made a thing of the past, to reduce injury choose a cling film that has a plastic cutter, this contains a blade inside so that the user can simply unroll, press down on the plastic top and the required film size is released.
Pack Rage Problem #3: Re-sealable Packs That Just Aren't
The Consumer IQ videos revealed another frustrating problem for consumers, packs advertised as 're-sealable' when in fact they weren't. Pasta packaging was in the firing line for this pesky problem, a clever marketing tactic or just a packaging fail? Our money is on the fail.
The main issue here is that most pasta packs 're-sealable' tab is simply a small clear label which can supposedly be re-used. It's problem is that the plastic packets pasta is sold in is a thick cellophane material, and a small sticker cannot hold down the amount of material once opened, especially if it is rolled over as the product diminishes. A much better option would be to use a reclosable seal, as seen on polythene bags and cheese packaging, the user can then run their finger along the closure for easy opening and closing which can be used time and time again.
We hope you enjoyed today's post, have you got any pack/wrap rage you'd like to share with us? Get in touch on Twitter - @kitepackaging. And why not join the #packchat every Wednesday at 1pm with @easyFairsPACK?