Packaging Bathroom Furniture In Large Volumes – The Packaging Doctor
The Surgery Is Now Open
He's the one they call the Packaging Doctor…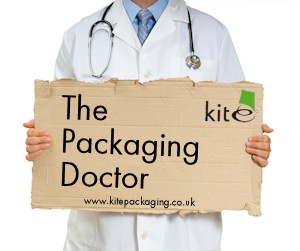 Thanks for joining us for another Monday of packaging questions and answers, and the last Packaging Surgery of 2013! Don't be sad, the Packaging Doctor will of course be back in the New Year – particularly after his debut in Craftseller magazines December issue and the launch of our new Kite blog, he just loves the limelight.
This week the Doctor has branched out to bespoke solutions, and from now on will be helping large businesses improve their packaging range by sharing in the advice given to group accounts. Bespoke solutions are designed for even the most complex of packaging problems and if anyone has experience in these it's Kite, which started out as a purely bespoke business way back in 2001.
This expansion of the surgery means every kind of business can now ask our Packaging Doctor their questions, perhaps you have a delicate piece of equipment to package or simply need a consolidated packaging range to help with logistics. All you need to do is ask on your question on Twitter and the Doctor will get back to you in the New Year.
Today's Patient – Monday 16th December
Dear The Packaging Doctor,
I am the CEO of the UK's leading supplier of bathroom furniture and accessories, we currently offer an extensive range of various bathroom fittings which we import from China. These fittings tend to be large, breakable products such as sinks, baths, shower fittings and toilets. The items currently go straight from our overseas manufacturers to our various branches across the UK to be held in our warehouses or displayed in our retail outlets.
However, currently the way they are packaged has resulted in a number of damages, this means they need to be returned to the manufacturers and re-shipped which is highly expensive and completely slows down our operation. This is particularly detrimental in our busy periods such as during the spring time when many people are looking to refurbish their bathrooms.
The packaging we currently use is a large cardboard box which is protected by large polystyrene cut-outs and cardboard buffers, which are designed to reduce impact to the corners and sides of the product. However we have found that this doesn't always work in terms of preventing damage in long journeys, particularly if the handlers do not transfer the items correctly. It is also becoming more and more costly to package items in this way, although the separate elements are reasonably cheap, the more we add to prevent damage is ramping the cost up and up. It is also quite time-consuming to pack, so efficiency isn't as good as I would like it to be and labour costs are more.
Is there an easier, cheaper and quicker way to package bathroom furniture such as the ones we sell? My main concern is driving down damage rates, however reduce in spend would also be very beneficial, especially in these tough economic times.
Thanks,
Darren
Hi Darren,
Thanks for your enquiry – you certainly came to the right person. Using polystyrene die cuts and stuffing boxes with cardboard to protect large retail product such as furniture is not uncommon practice, in fact it is industry standard. However more and more people are coming across a similar predicament to you and this tends to be down to international trading.
When multiple handlers are involved boxes tend to be less than carefully handled, and for ceramic products such as yours that are affected by atmospheric changes this is when cracks can occur. One of our most recent innovations for protecting large, easy to damage products, such as sinks, baths, televisions and marble surfaces is our Kite AirShock.
Launched at the Packaging Innovations Show back in October, these packs are basically very large bags or 'air packs' which are manufactured from LDPE (Low Density Polyethylene) and PA (Polyamide) to improve air retention. They consist of several solid air tubes to armour even the most fragile of products, when you touch the tubes they are hard and therefore ideal for protecting items in transit. Currently these packs are only available to group customers, and are 98% air and 2% film - pioneering the way for environmentally-friendly solutions, which also reduce delivery costs and warehouse space. The products are also re-usable, recyclable and are designed to remain inflated for an extensive period of time with different sized tubing to suit different sized product specs.
The obvious advantage apart from enhanced protection is speed and efficiency of the packing operation, these packs can be slid over the product with relative ease and then the whole product transferred to a box for transit. Not only is the much quicker than lining a box with buffers and polystyrene but it also means packers can use one sized product for most items, particularly baths, sinks and showers which are similar in size and bulkiness.
In terms of cost, I have calculated that the cost per pack which includes an outer box, polystyrene corners and cardboard buffers in the volumes you are using is £4.04. If you were to switch to using an outer box and an AirShock pouch the cost would be £3.41, saving you 63p for each item packed.
I hoped this answered all of your questions – good luck!
The Packaging Doctor
Note: All the packaging problems our doctor receives are real queries from customers or non-customers. Names have been changed for anonymity.