Packaging Cookies For Display – The Packaging Doctor
We seem to talk a lot about packaging baked goods, in the past we've talked about Wedding Cakes, Cupcakes, Ice Cream Cone Cakes and Meringues! If you have ever visited the Kite offices you will know that we love cake, and are always bringing in home-baked goodies to share with our teams. Baked goods often pop up as a packaging question due to the complexity of their design, and in general terms, the scale of businesses supplying these tempting treats. Of course there are the recognisable 'big' names in baking – Mr Kipling, Cadbury's, McVities, Fabulous Bakin Boys and Fox's to name but a few, but shows like The Great British Bake Off and Ace of Cakes have inspired bakers around the world to get creative and even start small businesses selling their treats.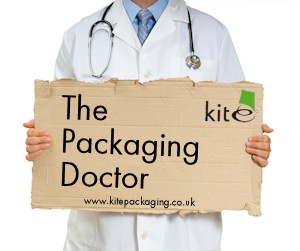 The difficulty when it comes to packaging is fragility and freshness – although baked delights such as wedding cakes are sometimes enormous statues of sponge they still need to be handled incredibly carefully, and sealed securely to maintain freshness (no-one likes a stale sponge). Cakes, cookies and pastries are also required to look 'pretty' – particularly if you are running an artisan or boutique bakery.
Today's patient has all these woes as she embarks on her new cookie business, but have no fear! I am of course about to dish out some valuable packaging advice to set her off to a flying start.
Dear Doctor,
After years of being an accountant and baking in my spare time with my kids I have decided to take a huge leap and start my own cookie business. I don't want them to be any old cookies though; I will be using all organic ingredients and inventive flavours such as 'Apple Strudel', 'Chocolate Soufflé' and 'Eton Mess' to create some gourmet cookies with high margins (the accountant in me isn't quite dead yet!).
For my business to really stand out I need the packaging to look beautiful and to give a good display finish. I would like them to maintain their freshness in transit as I plan to sell my cookies online as well as via my small bakery, however I would like the customer to open the box and see each cookie individually – not stacked together in a packet on bag.
Please help!
Thanks,
Cathy
Hi Cathy,
Wow, sounds like a brave move – congratulations on taking such a big step, I am confident it will take off and 'Cathy's Cookies' has quite a ring to it, no?
Your cookies sound amazing, and amazing products require amazing packaging. For confectionery items and such I tend to recommend our white base and lid cardboard boxes, they are crisp and professional looking, and the height can be adjusted easily due to the telescopic closure design. Base and lid boxes are typically associated with luxury food produce so will add that sense of 'gourmet' to your products. They also come in a variety of sizes which is ideal if you are sending our different quantities of cookies.
To give your customers a great experience when opening the box I would first line the inside with tissue paper, the colour of your branding would be most suitable, then use more tissue to coil in to shapes and create individual 'nests' for the cookies. For freshness, wrap each cookie in cellophane – also known as florist wrap – which has a crystal clear finish and luxurious texture to it that will remind customers of opening gifts! Using this method will ensure your cookies are wrapped so they won't crumble in the box and go stale, but are still visible and beautiful looking. You can secure the florist wrap with a heat sealer, tape or a cable tie.
Good luck with your new venture – and put me down for a dozen 'Chocolate Soufflé' cookies please!
Best Wishes,
The Packaging Doctor
Note: All the packaging problems our doctor receives are real queries from customers or non-customers.
If you have a packaging problem that needs diagnosing get in touch on Twitter @kitepackaging or email packagingdoctor@kitepackaging.co.uk