Packaging Dog Food To Send In The Post – The Packaging Doctor
The Surgery Is Now Open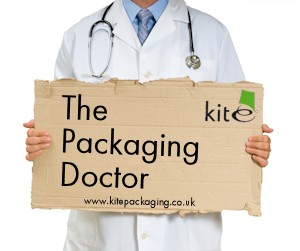 Hi Doctor,
I run a small online business that specialises in healthy treats for dogs. Currently I send them in a mailing bag but am finding they are getting broken in the post and don't look very presentable. Do you have any suggestions? They will need to fit in with the PiP guidelines and should be able to transport a medium sized bag of dog treats (about the size of a large bag of crisps).
Thanks, Toni-Anne
Hi Toni-Anne,
Thanks for your question – mailing bags are a great core product for sending out many retail products however fragile items like foodstuffs simply won't survive the journey. For a more presentable looking package I would suggest using our side gusseted clear gift bags for the loose treat, they are crystal clear which is great for the customer and can be secured with ribbon for a really pretty looking package.
For protection choose our 6x6x6 inch boxes, these are just the right size for one bag or even four bags of treats and are made from sturdy single wall cardboard. This box fits the 'Small Parcel (Deep)' PiP guidelines, and will therefore cost around £3 to send. If you'd like a little extra protection to absorb any shocks in transit and to stop the product moving about add some polystyrene chips, which are environmentally friendly and cheap!
Thanks, The Packaging Doctor

Note: All the packaging problems our doctor receives are real queries from customers or non-customers.
If you have a packaging problem that needs diagnosing
get in touch on Twitter @kitepackaging
or email packagingdoctor@kitepackaging.co.uk