Packaging Drum Kits – The Packaging Doctor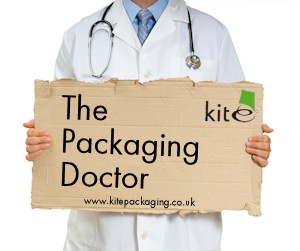 "If music be the food of love, play on", a famous quote from Shakespeare and one I think many of us can resonate with – I have always admired musicians, especially being tone deaf myself! I especially admire musicians who have turned their hobby into a business, often people who are passionate about something have a wealth of knowledge about the instruments they play and can make really successful businesses from using that knowledge to sell supplies to fellow music buffs.
However, instruments are incredibly difficult to package due to being high value, large and delicate – basically all the terms that make a Packaging Doctor go 'uh-oh'. Of course though, there is always an answer to a tricky packaging question, see below for this week's problem and if you have queries yourself you can visit our very own packaging experts on Stand 5F72 at this year's Autumn Fair – which runs until 10th September.
Hello Doctor,
I have always been a passionate musician and have been making and selling drum kits in my local area for the past five years.
I have recently launched an online business selling my drum kits and am now seeking advice for packaging the instruments via a lorry courier.
I don't want the kits to get damaged and want to keep the packaging as simple as possible.
What would you suggest?
Thanks,
Sam
Hi Sam
Thanks for your question.  Congratulations on the success of your business and your recent online expansion, exciting times are ahead for you!
Firstly, I would recommend an extra heavy duty cardboard box; these are a strong and sturdy solution and are a popular alternative to triple wall boxes. This style of box is ideal for exporting heavy and extra fragile items, and have been subjected to rigorous testing to ensure they are fit for the purpose. I would pack each element of the drum kit into one of these boxes, using smaller ones for the smaller drums and cymbals and the largest square (XHD7) box for the larger drum. This box has an AC flute which is the thickness double wall cardboard on the market at 9mm wide and therefore can take a lot of pressure. The other benefit of these boxes is that they can withstand huge amounts of weight on top of them without crushing; so that once each element of the drum kit is packed it can be palletised in to a compact package to send out to customers.
To produce a cushioning around the instrument and protect it from moving in transit I would then suggest our Instapak Quick RT Foam Cushioning which is a clean, fast self-expanding foam-in-a-bag, providing ultimate protection for fragile items. The bags are versatile for a range of products and are easy to use; through simply pressing the bag the foam is released and the custom mould is created, protecting your drum kit through transit. I would recommend the largest size (RT 80) cushion, which measures 800 x 500 x 500mm and is ideal for large products. There are 54 cushions in a pack so they should do around 5-10 kits depending on how much cushioning you require.
To fill in the smaller gaps I would also recommend a loose fill to ensure every part of the kit is well protected – our EcoFlo loose fill chips are made from starch so that they are environmentally friendly and work their way into most sized voids around a product. The spongy consistency absorbs shock in transit and provides further cushioning to your goods.
Finally, I would use some Kite Packaging tape to seal the box to add a professional, secure finish. Our Envirotape is long, strong and comes with a free dispenser when you buy over 5 packs so is really easy to use.
Good luck with your new venture!
Best wishes,
The Packaging Doctor
Note: All the packaging problems our doctor receives are real queries from customers or non-customers.
If you have a packaging problem that needs diagnosing get in touch on Twitter @kitepackaging or email packagingdoctor@kitepackaging.co.uk