Packaging Flotation Devices – The Packaging Doctor
I'm back again in the surgery, on hand and waiting for your questions so that I can dish out my expert advice and opinion. This week we are discussing packing oddly-shaped objects and exploring the importance of reviewing current packaging procedures. This time of year is typically the period when businesses begin reflecting on the previous months, and revising their strategy for the coming year, packaging included. For many of our customers, methods that were once cost-effective and worked well for the business now need to be totally refreshed to keep up with growing demand and tighter margins – common plights of operating in a competitive landscape.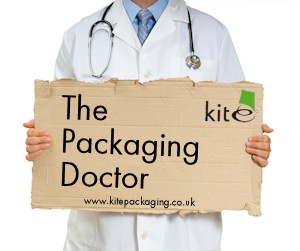 For example, if your business starts out as a bricks and mortar stand-alone store you may not use much packaging – products are given to customers in carrier bags, or paper bags or wrapped in paper. These are absolutely fine in that setting, but let's imagine your store does really well, people start asking if you have a website because their mum/brother/sister/cousin would LOVE your products but live in the North/South/West of the UK and are just too far way to make the trip. So you set up your e-commerce store, it starts off brilliantly but you keep getting complaints of damage – your in-store packing methods are not holding up in transit – so you re-allocate some budget and call an expert (like myself) to help you out.
These stories are incredibly common in our industry, and although more frequent in start-up businesses like the example above, stay with a business throughout its growth and packaging needs to be altered regularly to adhere to budgets, products and the company structure. Today's patient is a great example of how a business is growing, and adapting their packaging methods in order to save costs and labour time. Read on to find out more…
Hi Doctor,
I work for an organisation that manufactures and supplies lifebuoys (the orange rubber rings you see at the beach). Currently we use black bin bags to package them however we have discovered that this method is not cost effective for us and looks quite shabby.
We would like to be able to explore our alternative options available to help prevent this problem continuing, what would you suggest?
Thanks,
Christopher
Hi Christopher,
Thanks for your question.  It is important that we all look at making our packaging procedures as cost effective as possible, and I have a very straight forward and affordable solution for you.
Firstly, as an alternative to bin bags I would suggest using our black pallet wrap. Also known as 'stretch wrap' or 'stretch film', the material securely adheres itself without using adhesives. The film can be applied by hand or by dispenser for increased efficiency and is available for light, medium and heavy duty uses – medium duty is perfect for the lifebuoys. Once applied, a professional and secure package is created, and as an added bonus we pride ourselves in offering the best UK value so you won't be out of pocket!
The best way to wrap your products would be to create a bandage like covering around the ring – this gives a professional finish and will prevent damage and puncturing. To do this I would recommend our cross weave tape. This is a high strength and high tack strapping product, with strong tear resistance and is a great alternative to polypropylene strapping.
The tape is made with reinforced glass fibres to give extra tensile strength, and provides high security sealing; perfect for bundling odd-shaped materials such as your lifebuoys.
Hope this helps,
The Packaging Doctor
Note: All the packaging problems our doctor receives are real queries from customers or non-customers.
If you have a packaging problem that needs diagnosing get in touch on Twitter @kitepackaging or email packagingdoctor@kitepackaging.co.uk