Packaging For China Dolls – The Packaging Doctor
The Surgery Is Now Open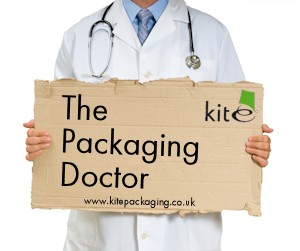 Dear The Packaging Doctor,
I have owned and run a traditional toy shop for many years and have recently decided to branch out and create an e-commerce store for my products. One of the headline products we sell is china dolls which are popular with both children and adults, and have been beautifully crafted in France. These dolls are obviously very fragile, and I need a container that is a tight fit.
Thanks and Best, Sandra
Hi Sandra,
With such a delicate product such as this bubble wrap or air cushions are most definitely your friend. If you are planning to send out high volumes fairly regularly I would suggest the Mini Air system as a key investment for your new on-line store. It is currently the lowest priced unit of its kind in the UK and the quilted style cushions are ideal for this kind of use. You'll find that the perforated edges make it much easier for you to get the right amount of wrapping and is much more economical than other void fill.
Alternatively, you can use bubble wrap - I would suggest the small bubble as the is such a delicate product. Our bubble wrap is made with a nylon layer which means air is retained much better than other kinds, this is ideal when sending products through the post or internationally.
Once your doll is wrapped I would suggest placing it in a postal tube to get the best fit possible, these will reduce transit costs as well which is great when you're starting out and are made from strong cardboard that will not be affected by shock or impact. It also reduces the likelihood of the product moving around in the container and being damaged.
Good Luck, The Packaging Doctor

Note: All the packaging problems our doctor receives are real queries from customers or non-customers.
If you have a packaging problem that needs diagnosing
get in touch on Twitter @kitepackaging
or email packagingdoctor@kitepackaging.co.uk