Packaging For… Electronics – Part One
Friday's Industry Tips
Hi All,
Welcome back to our Friday post where packaging solutions are number one on the agenda - designed to help your business establish the packaging needs of its industry sector and solve them with some simple product suggestions. Last time we looked at the food industry and how it uses high volumes of both transit and point of sale packaging, the stock products we suggested can be used for general use. In today's post we take a look at the electronics industry which requires slightly more specialist solutions due to the atmospheric factors that are a particular concern for this sector.
The electronics sector covers a multitude of different products, from circuit boards and small parts to consumer electronics such as laptops and televisions. Kite has worked with a number of electronics retailers over the years, and until recently electronic consumables and parts were the number one online shopping product. Unlike clothing or food electronic packaging is not designed to be good-looking, it is a specialist industry product that needs to ensure that each product is highly protected. In today's post we'll take a look at the key focuses for the electronics industry in terms of its needs and the best packaging solutions for protecting against environmental damage.
If you are an electronics retailer or manufacturer we'd love to hear from you. Do you have a 'desert island' product that you couldn't live without? Tell us your feedback and give us your questions on Twitter - @kitepackaging
Electronics Industry Packaging Needs
In past posts, some of the industries we have looked at have a wide range of packaging needs to suit various areas of the dispatch process. Electronics differs in this way as it generally has a fairly condensed packaging range; the variation comes with the products that can be miniscule or enormous. For some electronics companies, such as large consumer electronics businesses bespoke solutions are required to not only work around the needs of the sector but to manage the multi-site operations that they tend to work on. You can view our bespoke electronics case study - here
However, for manufacturers and distributors of computer parts and electrical components our online offering have developed a dedicated category for your business. These will take the products straight from the shop floor to the customer with no damages incurred. But what causes these damages? Our experience tells us that the key concerns for the electronics sector is:
High Value - Most electronic products are high value items, and while keeping the cost of protecting these items is still a high priority for electronics businesses the cost of replacing damaged items is much higher, and therefore the packaging needs to be of the highest quality.
Static - Many small electronics can be affected by static damage, causing them to stop working. In this case each and every element needs to be protected using an anti-static wrapping..
Moisture - Moisture is a huge issue for the electronics sector, and even the slightest bit can cause products to rust.
Surfaces - Highly polished surfaces such as laptop and television screens are prone to gathering dust and being damaged in transit. For costly products such as these even the slightest scratch will ensure it is sent back to the supplier.
Packaging Solutions for the Electronics Industry
In the first of this two part blog series we look at the solutions designed to protect goods against the two main atmospheric factors - static and moisture. Do you think we've missed something? Get in touch; we'd love to hear your ideas. Join us next week when we'll be looking at labelling and POS.
Protective Wrapping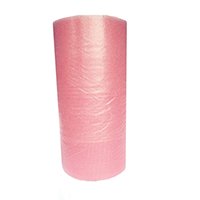 Anti-static bubble wrap is ideal for small and large electronic components that are affected by static. It is particularly designed for products that build static themselves in transit, and act the same as regular wrapping but are treated with a special component that prevents static build up. Our anti-static bubble wrap is also made with a special nylon layer that helps to retain air better, offering guaranteed cushioning even during long journeys.
We also stock a selection of re-sealable and pen-top antic static bags, with or without a bubble lined interior. These are ideal when sending a selection of small parts to make circuit boards or computers. The re-sealable bags in particular are printed with white, write-on lines which make labelling the products easier and can be re-used if parts need to be sent out to various places or back to the original place.
All anti-static products are pink in colour, which helps differentiate them from regular protective products.
Shielding Bags
Metallised shielding bags also protect from static charges, but more specifically from external charges that may be caused by other electronic equipment. Coated with a specialist treatment these bags offer complete faraday cage protection, and are printed with the universally recognised ESD logo which identifies the product as offering anti-static, dissipative and shielding properties.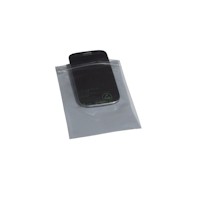 These bags are transparent so that products can easily be identified, which helps to speed up the supply chain if sent by a manufacturer. They can also be heat sealed and still retain the protective properties, ideal if products need to be extra secure.
Boxes For Electronics
Corstat boxes are ideal for a wide range of different electronic products. They too offer faraday cage protection and carry the ESD logo. For highly sensitive items these boxes are available with foam-lined inserts which offer protection from impact and shock in transit, the foam is also treated with anti-static to ensure the product is completely unaffected.
Next Week.
Join us next Friday for part two, where we'll be looking at the best items for protecting delicate materials and presentation packaging for electronics. Until then, have a great weekend!