Packaging For… Fashion – Part One
Friday's Industry Tips
Hi All,
We've got another jam-packed Friday post for you this week, featuring a host of tips and products that we hope will improve your packing operation and meet the key needs of your sector. We have already covered the antiques and the furniture industry (two markets that we've had plenty of experience in over the years). If you work in these sectors we hope you're finding these posts helpful - we are working to try and cover each and every market sector in the coming weeks. Today in the spotlight is the fashion industry, a tricky sector to generalise as the clothing market has one of the widest price ranges and various methods of distribution.
We have worked with a number of different customers involved in the fashion industry, particularly in the e-commerce sector. However, we've also had requests from wholesalers and high street retailers - who naturally have slightly different needs. With the evolution of eBay, Etsy and other online market places the Packaging Doctor has received a number of requests from start-up clothing retailers asking about how to promote a brand image in a cost effective way. For today's post we've merged this information to develop the best recommendations for general distribution to suit any fashion business, large or small. Take a look below and join us next week when we'll be discussing the best way to present goods for fashion consumers.
Do you work in the fashion industry? Or perhaps you work in another sector you'd like to see covered in these posts? Send us your feedback and questions on Twitter - @kitepackaging
Fashion Industry Needs
If you operate as a fashion wholesaler, part of a small fashion house, in luxury brands, e-commerce or on the high-street you will know that the packaging needs are varied. However, certain ideals remain throughout the industry. The fashion industry is very much a lifestyle sector, in that while it is not a necessity like food or healthcare, it is perceived as an important personal purchase for the majority of people in the UK. The fashion industry dominates the retail market, with an estimated worth of £21 billion in the UK alone.
High stakes mean a higher demand for quality packaging materials that meet the following requirement:
Perceived Value
Buying clothes or footwear is a lifestyle experience for many people, in that they are making a personal choice that will make them happy or express their style in a certain way. Whether a garment is £10 or £500, the retailer needs to package it in a way that shows they have considered the customer's thought-process and the anticipation of receiving their purchase. In this case, presentation is key.
High Volume
With the exception of high-end design houses (who focus on a niche target market), the fashion industry generally distributes goods in very high volumes. Fashion is a fast-paced industry with changing trends. Many customers make purchases on a weekly or monthly basis. This means packaging needs to be as cost-effective as possible and easy to use.
Brand Image
Even if you are just starting out, a strong brand image is an important factor in your packaging to ensure your business is memorable and breaks through the highly saturated fashion industry.
Protection Against the Elements
Many packaging products are designed to protect items from getting broken in storage or transit. However, in the fashion industry the primary need is to protect goods from the atmospheric elements that can be hazardous to clothing, such as moisture and dirt.
Packaging Solutions for the Fashion Industry
In the first part of our 'Packaging For.Fashion' we'll take a look at the standard packaging used for general distribution - the products that will be at the back of the store, used in high volume and all-round distribution life savers. Join us next week when we'll take on presentation packaging.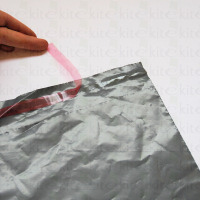 Mailing Bags
Mailing bags are one of the most popular products for the fashion industry, particularly in the world of e-commerce and catalogue fashion. For cost-effectiveness, many clothing retailers we work with choose the Kite Essentials mailing bags as they are a cheap yet high-quality product. The material is waterproof, keeping dirt and damp at bay. Also, they are made from 95% recycled material which is a great benefit to market if your business is involved in sustainable activities. Businesses commonly choose the grey mailers as they look professional and keep items confidential.
As well as cutting down costs, mailing bags also work perfectly for busy packing operations that generate high volumes of orders. The peel-and-seal strip makes them extra secure and easy to package without the need for tape or staples.
For retailers who require extra protection or send out large orders that carry more weight, a stronger bag is usually required. Co-extruded mailing bags are made specifically for heavy duty purposes with three layers of strong polythene extruded together to increase durability and tear resistance. These bags are also 100% opaque and therefore favoured by lingerie companies who want their packaging to be discreet.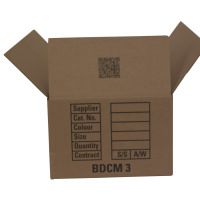 BDCM Boxes
Originally designed for printed materials, BDCM boxes are now highly favoured by the fashion industry due to the pre-printed label on the outside of the box, allowing you to easily identify the items inside, without having to open the box or scan a barcode. The label includes the size, colour and catalogue number (which can also be the product code). This provides a great solution for wholesalers who distribute to high street chains and e-commerce retailers, who need to separate goods into various categories.
BDCM boxes can also be used in-store to separate sales items or re-organise the stockroom when space is at a premium. They are manufactured from strong, single wall cardboard and come in four different sizes to suit various retailers and loads. Most importantly they have been specifically designed to improve palletisation, which means they will fit well on to standard pallet sizes and remain stable when stacked. This is a key need for the fashion sector when stock turnaround is high and regular deliveries are commonplace.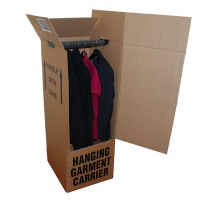 Wardrobe Cartons
Wardrobe cartons are an obvious choice for the fashion industry as they are specifically designed to carry clothing. Previously used by the removals industry for transporting clothing straight from rack to van they are now a great tool used by the clothing industry for holding and distributing stock as well as transporting for events such as fashion shows.
Ideal for fast-paced industries, wardrobe cartons are incredibly quick and easy to assemble. Clothes can be pulled directly from the railing in shops and placed straight on the plastic rail inside the wardrobe box. This not only keeps clothes on hangers (eliminating the common problem of lost or broken hangers in transit) but also prevents them from creasing. The strong double-wall cardboard box is self-supporting, saving a lot of space at back of store. They help keep your clothes looking presentable while they are waiting to be displayed on the shop floor.
Due to their ease of transportation, these boxes are regularly used in fashion shows where tight turnaround times on catwalks have to be adhered to. The use of wardrobe boxes in fashion events have also attracted stylists, who use them as a way of transporting designs and outfit choices to important clients and photo-shoots around the world.
Next Week.
Join us next Friday for part two, where we'll be looking at the best items for creating a valuable, well presented product to customers including boxes and protection. Until then, have a great weekend!