Packaging For… Food – Part Two
Friday's Industry Tips
It's Friday and that means just one thing here at the Kite blog, our industry tips - looking at the needs of various sectors we have expertise in and suggesting suitable products for these needs, all of which can be purchased within a few clicks on the Kite website. Last week we started to look at the food industry and how certain packaging can improve the back of store and distribution side of food services. The food industry usually operates on a multi-site basis, something that Kite specialises in, and therefore needs packaging solutions that speed up the warehouse to shelf process. You can check out last week's post here.
This week we'll be continuing to look at the food industry, this time concentrating on another important aspect of their packaging - point of sale. The majority of foods, whether they are being sold in a small greengrocers or a large supermarket need to be packaged in a way that makes them look enticing and attractive to customers. Food is considered an everyday item, however customers tend to make a decision on what to buy based on first impressions, and having packaging that is fit for purpose and looks good is essential.
Do you operate in the food and drink sector? Has this post helped you with your packaging needs? If you'd like to comment or make any suggestions please get in touch on Twitter - @kitepackaging
Packaging Solutions for the Food Industry
Today we'll be offering our expertise regarding the essential stock packaging products for displaying food items on the shelf, and distributing at the counter to customers. We have chosen these products to ensure costs are kept to a minimum, and as they are available on our website make the purchasing process for small businesses quick and effective. However, if you are interested in die-cut box solutions and high quality printed designs please get in touch with your nearest Kite branch, who will be able to offer a full service package and bespoke solutions - contact details can be found here.
Paper Bags and Plastic Bags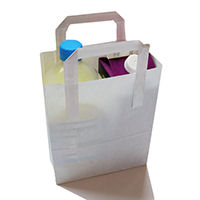 If you work in a deli, market or greengrocers a range of different bags are essential to your day to day operation. White paper bags are great for a wide range of applications, and are particularly popular with takeaways and cafes due to the flat base for keeping products stable and featuring handles for easy carriage. White paper bags also offer a more presentable style due to their clean appearance, and are made from Kraft paper which has a smooth feel and finish, ideal for completing the customer experience.
Other bags for packing products in to for customers to take away include carrier bags and open top paper bags. Open top paper bags are commonly used in greengrocers and are particularly good for fresh food produce that needs to be kept fresh. They can easily be folded down to secure a product, and keep items such as soft fruit separate from other groceries or fragrant products that may spoil them. Carrier bags are naturally a key need for the food industry and a recognised symbol of food shopping. Kite's carrier bags are unique in that they are fully degradable, containing a plastic additive that means they will break down naturally after being thrown away. This is a key concept designed to tackle the issue of land-fill space and are an essential purchase if your food business prides itself on sustainable practices.
Our most popular product for the confectionary industry is our clear, side gusseted polythene bags, which look beautiful when filled with sweets and chocolates. They have a feel and finish which is usually referred to as 'cellophane' in the retail industry and are typical in confectionary businesses and sweet shops. They are crystal clear so not to distort the look of the product inside and can be used with a heat sealer for a really professional finish.
Printed Tapes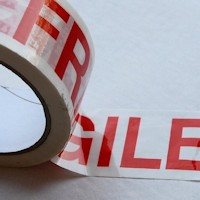 A printed tape is actually something that is used in the back-end manufacturing and packing process of food products to ensure that they are handled correctly, however this does have a huge impact on the retail side of the food sector - ensuring products arrive to store undamaged and ready for the shelf.
The most popular printed tape for the food industry is our 'FRAGILE' tape, this is useful for food that can easily be broken such as biscuits and crackers as well as food products with decoration such as specialist cakes. The food sector are also large users of the 'Contents Checked & Security Sealed' tape design, which is essential for an industry that has strict rules and regulations during the manufacturing process in terms of health and safety.
Bottle Packaging
Drink goes hand in hand with food, and therefore often its packaging needs are combined. Bottle packaging is one of the main components for the drinks industry, used in pubs, bars and off-licenses. The traditional way to package bottles is with a bottle box, these are manufactured from strong, double-wall cardboard and are specifically designed for 70cl bottles (usually wine or spirits). The bottles are packed in to the box which is separated by dividers - these help to stop the bottles moving in transit and getting broken when handled.
Next Week.
We hope you enjoyed today's post, thanks for reading. Join us for next weeks 'Packaging For.' post when we'll be looking at the electronics industry. Enjoy your weekend!