Packaging For Model Trains – The Packaging Doctor
The Surgery Is Now Open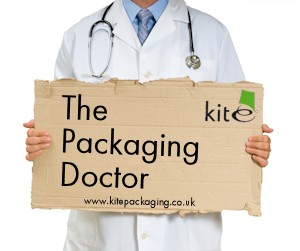 Dear Doctor,
I run a small and unique business fixing toy trains, some of them are considered to be antique products so they need a large amount of protection. They can be up to 100 cm long and need to be packaged flat. The problem I'm having is that I just can't find boxes that fit the trains in – long narrow boxes are so difficult to find!
Does Kite supply anything suitable?
Thanks, Roland
Hi Roland,
Ah, I'm afraid you have stumbled across an age-old problem – very long and narrow boxes such as the ones you require are difficult to get hold of because in general the demand for them is fairly low. Considering the product you want to wrap I would suggest that a box is perhaps not the best route to go down anyway as you require something that tightly holds your product in place to reduce the possibility of shock and impact damage.
Protection, protection, protection – that is the key to antique objects and delicate items so start by wrapping your product in bubble wrap. If you prefer you could even use a bubble wrap bag (length 435mm) either side of the train and secure in place with tape. Then all you need to do is create your own 'box' using single wall cardboard sheets, the pallet size is the perfect length and can either be scored and folded around the train or cut into pieces and taped in place. When taping choose 'Fragile' printed tape if you use third party carriers, as this will notify handlers that the goods are delicate.
Best Wishes, The Packaging Doctor

Note: All the packaging problems our doctor receives are real queries from customers or non-customers.
If you have a packaging problem that needs diagnosing
get in touch on Twitter @kitepackaging
or email packagingdoctor@kitepackaging.co.uk