Packaging For Personalised Gifts – The Packaging Doctor
With yet another bank holiday coming up and Britain set to see some warm weather, we are definitely looking forward to enjoying some well-deserved sunshine, but it never slows down here in the surgery and has been a very interesting busy few months.
At Kite we are passionate about sourcing great new products for our customers, no matter what the use. With the recent release of products for mailing, protecting drinks and ventilated stretch film, we are constantly looking at ways to innovate within the industry and bringing you premium products at market beating prices.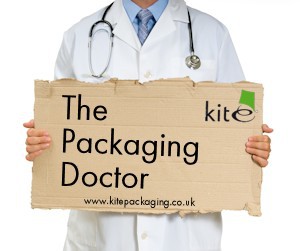 Today in the surgery we meet a customer who needs to wrap boxes in red wrapping paper.
Dear Doctor,
I hope you can help. I have 450 boxes of personalised gifts that I need to wrap in some form of red paper, they then need to be placed into outer boxes. The paper I require needs to be something that doesn't tear easily.
The dimensions of the box are 49cm x 35cm x 10cm (external).
I hope you can help?
Thank you,
Matt
Hi Matt,
It's great to have you in the surgery today and in true Packaging Doctor style, we can certainly help you.
Let me present to you our red ribbed paper, this high-quality 70gsm coloured paper is ideal for wrapping packages offering excellent tear resistance. Not only does it create attractive packages, but it is also strong and durable, ideal for your requirements.
I would recommend 100cm per box so there is enough paper to overlap your internal boxes. Each roll has 25 metres with one roll will doing 25 boxes, which will mean you need to purchase 20 rolls.
The best outer box I advise will be my Single Outer Wall 50.8 x 38.1 x 35.6cm (internal – useable dimensions). These boxes will provide the protection and reliability you require at an affordable price and are great for a variety of applications.
We hope this helps!
The Packaging Doctor
Note: All the packaging problems our doctor receives are real queries from customers or non-customers.
If you have a packaging problem that needs diagnosing get in touch on Twitter@kitepackaging or email packagingdoctor@kitepackaging.co.uk