Packaging For Sending Car Parts Overseas – The Packaging Doctor
Welcome back to the Packaging Surgery, where a problem shared is a problem solved! Moving in to summer this is an ideal time to be thinking about new product launches, which often reach the planning stages at this time – ready for launch in the last quarter. Of course at Kite Packaging we are regularly launching new products, both in the world of stock and as part of the website. We have recently launched our new cardboard box page which allows you to buy boxes quickly and easily, using intelligent quantity buttons and a hovering basket to allow you to keep track of your purchases. If you need to buy large quantities it might even be better to use our mixed pallet tool – ideal for if you need to order a pallet of varying sizes and board grades.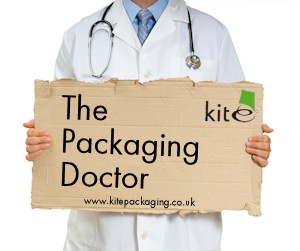 Moving on to the patient! We often discuss packaging in terms of what will protect items in transit, but mostly we are referring to trucks as most businesses use these to deliver goods. However there are of course many different kinds of freight, including train, boat and aeroplane and these can be trickier. Packaging needs to not be bulky to save weight in transit but also strong enough to withstand multiple handling and continuous movement.
Check out how I helped a car manufacturer below!
Dear Doctor,
I work for a company responsible for producing and selling a well-known brand of cars and currently am stuck with finding a solution for transporting parts from our factory in the UK over to Asia.
We will be breaking the prototype car down into individual parts but need to get some of them over to Asia to conduct further safety tests before we can start selling the new model, so this is essential to our business strategy.
What would you suggest to ensure the parts are delivered together and refrain from damage?
Thanks,
Peter
Hi Peter,
Thanks for your question.
We like to make anything possible here at Kite, even flying cars!
Usually I would recommend pallet boxes or extra heavy duty boxes for this type of delivery, however it may be that these are too small for bulky engineering parts such as cast items. I would recommend double wall corrugated cardboard sheets that are 2m x 4m to make your own boxes. Each sheet is approximately 7mm thick and has excellent burst resistance, ideal for creating strong dividing walls in cartons and stacking loads.
You can seal the boxes using cross weave tape as this is high strength with high tear resistance, and is made with reinforced glass fibres to give extra tensile strength.  This tape is perfect for heavy duty and security sealing and can be used to bundle odd shaped materials, perfect for those car parts!
Hope this helps,
Best wishes
The Packaging Doctor
Note: All the packaging problems our doctor receives are real queries from customers or non-customers.
If you have a packaging problem that needs diagnosing get in touch on Twitter @kitepackaging or email packagingdoctor@kitepackaging.co.uk