Packaging For… The Furniture Industry – Part One
Friday's Industry Tips
Hi All,
Welcome back to our 'Packaging For.' blog series, where we'll be looking at a different industry sector each Friday to discuss their packaging needs and our most popular products to help. For the last couple of weeks we've been helping out the Antiques sector with their packaging needs, looking at high levels of protection and presentation. Today we take on the furniture industry, an interesting sector due to their specific requirements and difficult to handle items.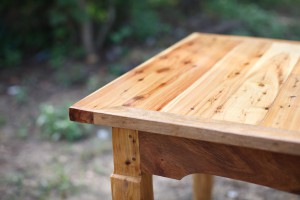 We've worked with a number of different furniture manufacturers and retailers, from household names to one man bands creating bespoke specialist product, and their needs have been reflected in the range of standard product we offer right here on the website and our bespoke services. This has given us a great portfolio of expertise, so take a look below at our recommendations.
Do you work in the furniture industry? If so we'd love to hear your views on today's post. Send us an email or tweet us - @kitepackaging
Furniture Industry Needs
Many furniture manufacturers, even large businesses make their products by hand on a single production line and therefore the packaging needs to be simple to use and serve a purpose as sufficiently as possible. Packaging products is often an awkward process, due to the odd shapes and sizes of products and therefore packaging needs to be as simple to apply as possible.
The furniture industry covers removals, manufacturers, retailers and small bespoke offerings however all of these businesses have similar requirements including.
Prone to Damage - Although many of the products covered by the furniture industry including table tops, bathroom fittings, surfaces, flooring and other large, robust items these are usually made from material that is prone to chipping and other surface damage. For manufacturers this is a significant problem as if damaged goods are distributed to a retailer for example it will be rejected. These items are often high value, and customers will refuse to pay for expensive items that aren't in perfect condition.
Returns and Transport Costs - Any damages caused in transit of these high value products mean immediate returns, not only does this mean a lot of space is taken up but unnecessary transport costs are incurred, a huge implication for furniture manufacturers. In the removals industry, damage to peoples possessions can also cause grief, with legal action and insurance claims all posing as possible threats.
Space - Space is at a premium for many companies and therefore products need to be packaged quickly and pushed out to customers so that room can be made for further stock. Space is also an issue on the carriers that take the goods and therefore packaging needs to be as lightweight and compact as possible.
Double Handling - Often furniture products are passed to many different handlers throughout the supply chain, and the packaging needs to survive that. It also needs to be robust enough not to degrade over time in storage, particularly in the case of it being sent to retailers to hold until they are sold.
Packaging Solutions for the Furniture Industry
In the first part of this 'Packaging For.The Furniture Industry' post we'll be looking at the best products for protecting the most delicate areas of typical furniture products. This includes delicate surfaces and corners which are the area's most prone to damage in transit. Take a look below at our suggestions and join us next week when we'll be looking at general protection and packaging smaller furniture items.
Edge and Corner Protection
Corners are often prone to damage as they are the most open to the elements and at a greater risk of being scraped or knocked during handling and delivery. As most furniture items have sharp corners it is essential to address these with a fully protective solution that provides a quick and efficient way to protect corners and cushion any impact damage. Foam is a brilliant material for corner protection because it is made from polyethylene, which is high density and a brilliant shock absorber. Specially designed foam corner protection is Specially designed foam corner protection speeds up the packing process as they can easily fit over most corners from tables and flat surfaces to chests and beds, and grip on for a comfortable fit.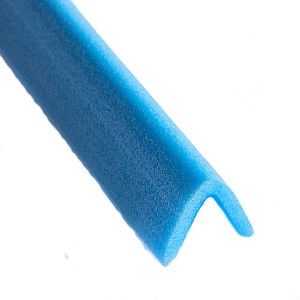 U-channel protection is also particularly popular in the furniture industry because it offers full flexibility and excellent grip so that edges are protected even through vibration and movement in transit. U-Channel edge protection is available in a variety of different thicknesses however it can also be cut to size if the length isn't quite accurate. The material is easy to manipulate, and designed so that it will grip an edge whilst being pushed around an odd shape or round corners (around a kitchen top for example).
L-Profile edge protection offers similar benefits, however is made from similar materials to the corner protectors. These are a popular product for transporting large doors or cupboards as they are designed to fit a standard edge size.
Surface Protection
Interior design has been popular for some time now and the demand for more impressive furniture has grown massively. With this, comes intricate designs and highly polished materials such as varnished wood, marble and ceramic - all of which show up the slightest scratch or imprint.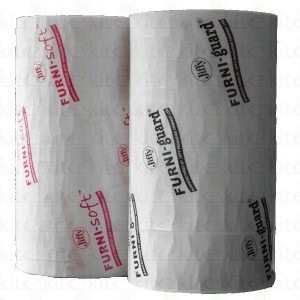 Foam rolls are the traditional way to protect surfaces such as this, and can be laid over the top of the product and secured with tape or can be wrapped around the product, providing some edge protection as well. Our foam rolls are non-abrasive and therefore can be used to wrap all manner of delicate surfaces without causing any scrapes. This is perfect when wrapping or covering items such as large mirrors, or doors with glass panes.
An alternative to foam rolls is Jiffy's range of 'Furni-soft' and 'Furni-guard' material which have been specially developed for the furniture sector. The Furni-soft is made from laminated astro bubble to offer cushioning and protection with a woven polypropylene layer on one side to which won't mark or rub surfaces and offers a greater level of protection. Furni-guard is manufactured in a similar way but is coated in a polyethylene material to make it water and puncture proof - ideal if items are being stored in damp conditions.
Next Week
Join us next week for a look at the furniture industry one last time, and a closer look at its packaging needs in a more general sense. Thanks for reading, have a great weekend!