Packaging For… The Furniture Industry – Part Two
Friday's Industry Tips
Hi All,
Thanks for heading back to the Kite blog for our final instalment of 'Packaging For.The Furniture Industry' blog post. Last week we looked at the product specific foam and protective products that have been specially designed with the furniture and removals industry in mind. The furniture sector has a great deal of different needs, mainly because it handles very high value product that goes through rigorous quality testing before it can be sold. If you are a furniture manufacturer this means returns is a big concern as space is usually at a premium that needs to be freed up for more product, not to mention the huge expense shipping large furniture items can incur.
Kite's experience with furniture manufacturers and distributors is incredibly varied, we've worked with a number of different businesses - all who have varying supply chain logistics and production lines. Most commonly we see furniture manufactured on a single line, and therefore the packaging solution needs to be simple and easy to apply to ensure a smooth flow of service. This is why many furniture businesses opt for standard stock packaging product that will serve a number of purposes, and can be easily ordered time and time again.
If you work in the furniture industry we'd love to know your views on this post, take a look below at the second part of our recommendations for your sector and let us know what you think on Twitter - @kitepackaging
Packaging Solutions for the Furniture Industry
Today we take a look at protecting and packaging not only furniture from damage but also the accessories that come with many items such as doors, tables and sofas. These are incredibly important to protect in the packing process as they're normally the first things to get lost in transit and are made from more delicate materials than the product they come with. We'll also look at some great protective bags for use with large items.
Protective Bags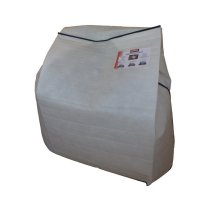 Large items such as armchairs, loveseats and sofas are robust items but are the most in need of protection from outside elements such as dust and moisture, particularly if they are upholstered in expensive fabric. The cost of bubble wrapping or pallet wrapping items such as this is high, and an often laborious task. That's probably why polythene furniture bags are the most popular product for this industry. Removals companies in particular favour these for helping to speed up their operation, as the bags are specially designed to fit over a 1, 2 , 2.5 or 3 seated sofa and therefore no extra taping or strapping is required. Unlike some bags which are incredibly thin and therefore easy to rip open, these furniture bags are made from 85 micron which offers excellent burst resistance. This is a favoured thickness among decorators for its protective qualities.
For further, more premium protection, which is useful for protecting particularly expensive items from damage is a bubble blanket. This is made from a much softer material with a bubble wrap lining that protects from any shock/impact damage as well as water, dirt, grease and any other transit damage. Although they do cost more they are extremely hard-wearing, making them suitable for multi-trip purposes. If you have a consolidated range of furniture to ship these might be a more cost effective solution for your business model, as they can keep going back and forth from supplier to customer for a long time. These blankets are incredibly high performing packaging materials and take up less space on a container than each item being on a pallet.
Bubble Wrap

Bubble wrap serves a variety of purposes for the furniture industry because of its superb protective qualities and the ability to cut it down to varying sizes. Wholesale bubble wrap generally comes of large 100 metre rolls which are perfect for the furniture industry that may be wrapping a table top several times over in a day to day operation. Bubble wrap comes in two sizes - large and small, the large bubble wraps unsurprisingly have larger bubbles that are widely spaced. This is good for wrapping big items as the large bubble wrap is suited to bigger surface areas. For smaller items such as door handles, table legs, and cupboard doors the smaller bubble wrap is a preferential choice. Bubble wrap has a good burst resistance and the bubble we sell (Jiffy branded) is co-extruded with a protective nylon layer to maintain air retention, ideal for long journeys and storage.
Boxes and Air Cushions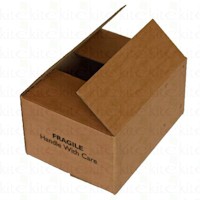 For those smaller products and removals, boxes are a key essential to incorporate in to the overall packaging solution. Our most popular product in the sector is the'Handle With Care' double wall boxes.Many pieces of furniture, particularly if they contain glass or breakable parts are considered fragile and if they are double-handled (a key issue we identified last week) need to clearly inform handlers that the parts inside are breakable. The great thing about handle with care boxes is that there is no need to include 'fragile' tape or labelling, speeding up the packing process with ease. Double wall is the best box to use for most furniture products as they provide extra protection and reassurance to the customer. They are also great if they are going through long journeys or facing different atmospheric pressures as they deteriorate at a slower rate.
Air cushions are also handy to quickly pack up small accessories or items. The Kite Mini Air machine is most useful for the furniture industry as it allows for further consolidation. Portable and small in itself, it provides easy void fill so that businesses can buy a standard, small range of box sizes and any product that are too small can be packed in tight with air cushions. Of course, the quilted air cushions also provide a good alternative to bubble wrap for wrapping fragile items, particularly if there is only one packer in your operation and handling bubble wrap is too demanding.
Next Week
Join us again for another 'Packaging For.' blog post. This time we'll take a look at the needs of the fashion industry, from small design houses to giant high street brands. Happy Friday to you all and have an amazing weekend, whatever you might be doing. Catch you next week!