Packaging For Wigs – The Packaging Doctor
The Surgery Is Now Open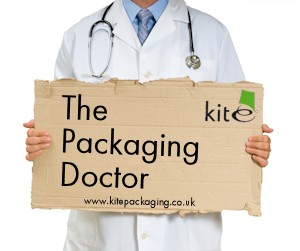 Dear Packaging Doctor,
I am trying to start a business selling wigs, I myself suffer from alopecia and wanted to help other sufferers – as well as people who just love to regularly change their haircut! I'd like to package the product as professionally as possible and with my own branding – can you help?
Thanks, Bridget
Hi Bridget,
A very unique business indeed, wigs have increased in popularity over the years as they have become more comfortable and a quick fix for people wanting to change their style – including celebrities and models. To protect the wig initially I would place in a clear polythene bag, our open top bags would work best as these can be heat sealed for a really professional looking sealed pack. They are waterproof and lightweight which is ideal for packaging wigs which are very delicate and can be affected by moisture.
There is a range of polythene bags which we sell, however if you wanted custom bags to fit each individual wig (such as long, narrow bags for long hair) I would recommend using our medium duty polythene tubing. This can be slid over your product and then cut and sealed at the ends with a heat sealer. The result is a presentable looking product and a consolidated pack range using one material – this saves you having various sizes of bags to choose from.
To finish, place the bagged wig in a presentation box such as a white postal box, these have been designed specifically for retail products and as wigs are often expensive will show that it has been cared for in transit. The box can be written on, labelled or to really add your own touch to it, sealed with our custom printed tape. This tape can be made especially for you via the Kite website and can feature up to four colours – simply attach your brands logo or artwork to your order and see your very own tape whipped up in no time.
Best Wishes, The Packaging Doctor

Note: All the packaging problems our doctor receives are real queries from customers or non-customers.
If you have a packaging problem that needs diagnosing
get in touch on Twitter @kitepackaging
or email packagingdoctor@kitepackaging.co.uk