Packaging For…Art – Part One
Friday's Industry Tips
It's Friday again, and time for our very first 'Packaging For' post of 2014. For those of you who are new to the Kite blog, these posts have been designed to shine a light on a particular industry, and deeply analyse their packaging requirements. So far we have looked at antiques, electronics, fashion, food, furniture, warehousing and logistics – thanks for all your great feedback.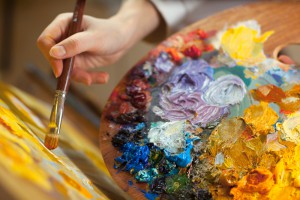 Today we'll be taking a closer look at the art industry and how their packaging needs differ depending on the type of artwork a particular business specialises in. Art is a growing industry, particularly online, and at Kite we have launched several innovations to help with its packaging needs from large portraits to small canvases and photographs. Art is very similar to the world on antiques, in which there is a high perceived value – and therefore your customers will be expecting their artwork to be expertly packaged, and carefully handled.
If you operate in the art and gallery sector we'd love to get your feedback on this post, and gain an insight to any new challenges you are facing this year to help us improve our services. So please do share your thoughts on Twitter.
Art Industry Packaging Needs - Luxury
Today's blog post will focus on the luxury and individual side of the art industry which specialises in one-off paintings, exhibitions and gallery supply, archiving and specialist pieces for customers. Artwork such as this operates in a very different supply chain than most other products as it is rarely supplied from a large warehouse or manufacturer. This means each item needs to be packaged according to its individual needs. These include:
High Value – As mentioned, in the gallery and luxury world of art most of the items are worth hundreds and even thousands of pounds – bid for in auctions or viewed at specialist galleries. Even small galleries offer local artwork for a high price and sometimes these paintings are unframed or displayed in ornate frames which need to be protected. Because of the price paid for these items, customers expect them to arrive pristinely packaged as well.
Personal Purchase – Unlike a sofa or foods which are necessary purchases in modern life, a piece of artwork has a uniquely personal emotion attached to it. Art is bought due to a passion, sentimental attachment or as a personal investment. Not only this but each piece of art is unique, and this gives even more reason to protect an item properly.
Third Party Delivery – It is very rare that you purchase artwork from a gallery and take it home that day. Because artwork is often large and delicate, galleries use courier services to ensure products are delivered to customers after they have bought them.
Price – Price is always a top issue when choosing packaging however with higher value items protection still remains a priority. However, for smaller galleries although artwork is still expensive, small stock turnover means budget is limited.
Packaging Solutions for Art
Tissue Paper
Tissue paper is a packaging staple for the art industry and widely used across the sector. For unframed pieces in particular tissue paper is a key protective solution, our tissue paper is acid free and bleed resistance, ideal for paintings as if they get wet the tissue paper won't ruin the picture.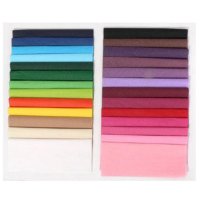 To apply, we suggest wrapping the whole piece in tissue and then folding four triangles for each corner. Insert the paper triangles over the corners of the piece for extra protection, and remember to apply whilst wearing cotton gloves so that the picture isn't blemished. Our tissue paper comes in a range of colours, but white is best for a classy, well protected looking piece.
Picture Frame Boxes
Picture frame boxes (or mirror boxes as they are sometimes known) offer enhanced protection for canvases and paintings, whether they are framed or unframed, as they are manufactured from strong corrugated cardboard. These boxes work with a base and lid slide design, which offers dual-protection top and bottom. The cardboard provides excellent burst resistance so that even the most precious of items can be shipped without any worries. For high value items it is recommended that the picture is wrapped in both tissue paper and then either plastic wrapping or bubble wrap before being inserted into a picture frame box – which are designed to allow for extra space taken up by wrapping.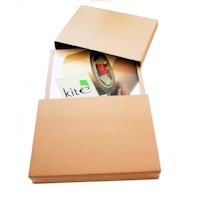 We provide this box flat-packed which is ideal if paintings are being packaged straight out of a gallery or exhibition space, to see how quick and easy it is to put a box together watch our demonstration video.
Foam Protection
Foam is a great material for providing an outer layer of protection to artwork, remember not to apply straight on to a piece as foam tends to have microscopic scratches that could affect glossed surfaces and glass if a painting is framed. However once the picture has been wrapped foam sheets provide brilliant cushioning – you can use it to line a box or as a third layer of protection.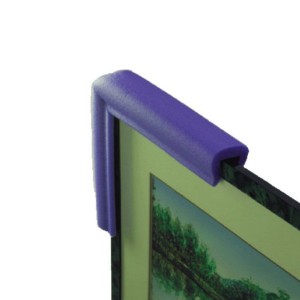 Another choice of foam protection is corner protection. We have created a fantastic range of edge and corner protection for the art industry which is ideal if you are sending paintings in ornate frames. Designed with a u-channel fit the foam clings to edges and offers excellent shock absorption and protection from scuffs and scrapes.
Next Week…
Thanks for joining us for today's industry tips – we hope it helped your art business in some way. Join us next week for part two where we'll be looking at the online art business and photography - as always have a fantastic weekend.