Packaging For…Warehousing
Friday's Industry Tips
Hi All,
We hope you all enjoyed last week's post about the right packaging products for the logistics sector, this counts for a huge part of our business ethos – which is concerned with providing supply solutions as well as innovative packaging concepts. Closely related to the logistics sector is warehousing, which has similar needs of the logistics industry but with a much bigger focus on space saving. In today's post we will be looking at how the warehousing sector can benefit from certain products and solutions. Similarly to the logistics sector, warehouses have experienced a huge push this month getting out orders to customers and in the B2B sector (like ours!) there is pressure to get product out even earlier to help businesses with the demand from consumers. The products we'll look at today will help with utilising warehouse space and speeding up efficiency in a warehouse operation – be it large or small.
This will be the final 2013 post in our 'Packaging For…' series, however have no fear as we'll be back in January with even more sectors and advice. We hope you enjoy this edition, and if you work in warehousing we'd love to hear from you. Please do get in touch on Twitter
Warehouse Industry Packaging Needs
Kite has worked within the warehouse operations for a number of years, as well as having our own warehouse facility – so we like to think we can provide some of the best expertise in this industry. Similarly to logistics, which we covered last week, the warehousing sector has a variety of needs that affect the overall supply chain. Warehouses often have several forklifts moving around a space, therefore space needs to be utilised so that picking can be done as quickly as possible. The warehouse sector therefore needs the following needs fulfilled by packaging and packaging equipment to ensure a smooth flow of operation and an organised working environment…
Space – One of the key issues facing many warehouses is space, with the priority sectors used for actual products packaging needs to be as space savvy and consolidated where possible.
Volume – As well as space being an issue, large warehouse operations often need to order packaging in large volumes as pallet loads of product are sent out the doors on a regular basis. These volumes need to be managed effectively to ensure the packaging does not take over the warehouse space.
Speed – Most warehouse operators are managed based on picking numbers, and therefore they require the right tools to be able to pick the required amount of stock and pack it efficiently.
Packaging Solutions for the Warehouse Industry
Some of Kite's range has been specifically designed for use in warehouses and to improve the efficiency of the operation. Take a look below at our top four product categories for the warehousing industry, and exactly how they fulfil the needs of this sector.
Pallets, Wrap and Machines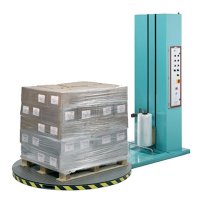 Pallets are one of the key products a warehouse needs to ship goods, and plastic pallets are becoming more popular as they stack easily and therefore save on valuable space. All of our pallets have a 4-way forklift entry design so are great for operations where forklifts are the main way to pick product.
Pallet wrap machinery is ideal if you wrap pallets in high volumes. They work using a semi-automatic method and allow packers to place a pallet on a rotating platform and apply wrapping quickly. The most useful element of using a pallet wrap machine is that it can detect the size of the pallet and therefore wrap it accordingly – this helps to maintain an industry standard and ensure each pallet is well protected.
If your operation is slightly smaller however hand pallet wrap dispensers are a cheaper and better suited option. These have a twist grip handle so that the roll will stay secure, and is made from a material designed to have a comfortable feel.
Void Fill and Hoppers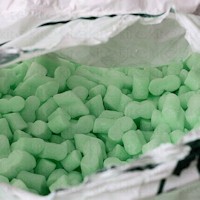 Polystyrene chips, sometimes referred to as traditional void fill, is used regularly throughout warehouses in the UK. It is an incredibly versatile way to fill voids, and protect goods in transit; it also has many other benefits including cost savings and, if you choose a product such as Eco-Flow, is environmentally friendly. However large bags of void fill take up a great amount of space in the warehouse and can be messy. The best way to tackle this problem is to use a supported hopper or overhead storage.
Kite Mini Air System
The Kite Mini Air machine has been designed for a variety of purposes, however cost and space saving was at the fore front of our mind with this design. In terms of a consolidated packaging solution the Mini Air is ideal because it can produce a variety of air cushions, larger ones for void fill and smaller ones for protection and wrapping. The Mini Air is very compact, only about the size of a printer yet can still produce around 7 metres of air cushions a minute.
Air cushions have become more and more popular in recent years, and that's why we've created the cheapest unit on the market to produce them – so that everyone can try it out!
Tape Dispensers and Labels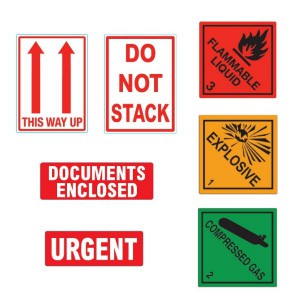 A simple way of saving costs and improving efficiency is to introduce tape dispensers to your operation, these handy tools are essential to an efficient packing line and will drive costs down by ensuring no unnecessary tape is used.
Tape dispenser guns should have a 'piston grip' for easy usage, a comfortable grip is essential for your packaging operation so that packers can easily use the dispenser during a 8 hour shift, without cramping or hurting their hands. Getting the right tape dispenser gun for your product isn't difficult either, all tapes including acrylic, PVC, hot-melt and our enviro-tape (if you don't know what these are check out last week's sealing post) can be used in a standard gun. Kite's tape dispenser guns meet all these requirements, and include an adjustable brake which allows you to control the speed of the tape release.
Labels are another essential product for this industry as often fragile product is sent from warehouses to third party carriers. So that all your hard work isn't undone by rough handling 'FRAGILE' and 'Handle With Care' labels are a great way to let carriers know that certain items need extra attention.