Packaging Individual Vinyl Records For Transit – The Packaging Doctor
The Surgery Is Now Open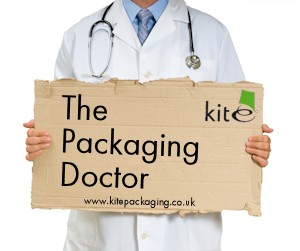 FAO The Packaging Doctor,
I've recently started my own business and will be selling a few of my old 12 inch vinyl's as a starting point. These items are very precious so I want them to be as protected as possible, and have a reasonably snug fit. For presentation purposes I would like them to look professional. Do you have any suggestions on suitable containers/packaging options?
Cheers, Miriam
Hi Miriam,
You've picked a great business to start, old vinyl's have had somewhat of a comeback in recent times and we've seen rare records go for thousands on auction sites such as eBay. A perfect box for this type of item is a pizza style or tuck in flap carton, as these are nice and flat just like a record and are compliant with Royal Mail's Pricing in Proportion guidelines, a perfect solution for a start-up business that may not want the expense of a courier service.
These boxes come in white, which is always a great way to display items in an attractive way. They also can be written on, or customised with printed tape and labels to offer a truly unique design tailored to your business.
For extra protection I would recommend two different solutions. The first is trusty bubble wrap, a couple of layers would be adequate for your records, choose the small bubble wrap as the smaller bubbles offer better protection for these type of goods. A bubble bag would also offer similar protection, but be a much quicker way of packing items (choose a 380 x 435mm for your 12" records). Alternatively, if you would prefer something a little more presentable I would first wrap the record in Kraft paper; which offers excellent shock absorption and tear resistance, and then fill the box with your choice of coloured tissue paper. Tissue paper is a great, cost-effective way of creating presentable packaging that also protects items from damage caused by vibration in transit.
Good Luck, The Packaging Doctor
Note: All the packaging problems our doctor receives are real queries from customers or non-customers.
If you have a packaging problem that needs diagnosing
get in touch on Twitter @kitepackaging
or email packagingdoctor@kitepackaging.co.uk