Packaging Personalised Champagne Flutes – The Packaging Doctor
The demand for personalised gifts has grown significantly in the last few years, particularly with the growth of e-commerce and the ability to order personalisation online. From personalised greeting cards, wrapping paper, giftware, homeware and even clothing - you name it, people are ordering it.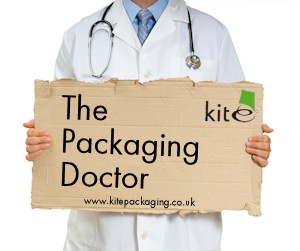 New ranges of personalised options are regularly being introduced to the market, and it is essential that companies have fast and effective void fill solutions to keep up with the demand from their customers.
Void fill will vary dependent upon the product being sold, and of course bubble wrap always remains one of the most popular and well known solutions; however it is important that manufacturers explore the wide range of void fill solutions available.
Staying on top of key packaging trends, and making small changes to your operation, can save time, money, and help improve the presentation of the gift on receipt of the customer. Void fill is a great place to start as it is used in packing most products, and is usually the driving factor between a product being damaged or not.
Today in the surgery we meet a patient who runs an online giftware store and is looking to change their current void fill. Read below how I helped introduce a mini solution that makes a big difference!
Hi Doctor,
I have my own online giftware business which specialises in selling personalised champagne flutes complete with luxury chocolates. Our range is popular for all sorts of celebrations including weddings, birthdays, anniversaries and special occasions.
We currently use bubble wrap to protect the flutes, but we find that as a packaging solution this is extremely time consuming when you consider measuring out the right amount and then cutting it (especially when you get it wrong!)
We are growing really rapidly as a business and I want to reduce packing time per unit by around 30%. Is there a new void fill solution, preferably that suits the giftware market, that you would recommend us using?
Thanks for your help,
Martin
Hi Martin
Thanks for your question.  Absolutely! I have the perfect prescription which will stem you away from the world of bubble wrap into a simple, machinery solution. Let me present to you our Mini Air machine!
This innovative, multi-use packaging solution creates air cushions on demand and is perfect for void fill, wrapping, interleaving and more.
The Mini Air machine uses a range of 8 cushion types to compliment a range of products and is the best value void fill solution and best value machine in the market. I would recommend checking out our quilted cushion range as these are designed especially for glassware and fragile goods and would be perfect for your champagne flutes.
The use of this solution will introduce many benefits into your business, including cost efficiency, space saving, and packing versatility. What's even better is that Mini Air is really easy to operate with minimum set up and no training required so will fit straight into your current packing operation with ease.
Hope this helps,
Packaging Doctor
Note: All the packaging problems our doctor receives are real queries from customers or non-customers.
If you have a packaging problem that needs diagnosing get in touch on Twitter @kitepackaging or email packagingdoctor@kitepackaging.co.uk