Packaging products for mail order and dispatch
Packaging products for Mail Order and Dispatch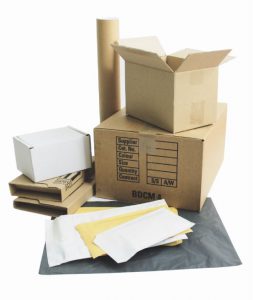 As specialists within the packaging industry, we know only too well the importance of protecting items for mail order and dispatch. We stock a wide range of outer protection items to ensure your products are protected and ready to go!
Postal boxes are perfect where presentation matters. Quick and easy to assemble, these high quality boxes perfectly represents the quality of your product.
Book wrap mailers are a very versatile packaging option designed to keep your products secure and safe. They are ideal not only for books, but for a range of products such as printed materials, DVDs and games.
Our ranges of polythene mailing bags are low cost high quality mailers, perfect for e-commerce companies sending out goods. We have a large variety of sizes available.
Our extensive ranges of bubble-lined mailers are suitable for a variety of uses. Whether you are looking for economical, protective envelopes manufactured by Jiffy and Arofol or a waterproof bubble lined weather- mailer, we have a full range available.
Postal tubes are the perfect way to send and protect artwork, prints, plans or posters. They are manufactured with a strong brown Kraft outer and come in a wide range of sizes.
Our range of polythene bags are ideal for a range of uses, we supply light, medium and heavy duty and have a range that can be heat sealed, grip sealed and also some available with a write-on panel to clearly identify the contents packed within each bag.
BDC and BDCM boxes are the industry standard for the retail, clothing and catalogue trades. Constructed from high quality single wall cardboard, they are clearly printed on one side of the box so you can write the supplier, catalogue number, colour and size details.
Don't forget our extensive range of stock boxes that are very competitively priced. Choose from our single or double wall range and find a size perfect for you!