Packaging Regulations – Make a Date with Kite
By Andy Fay
• Wednesday

14th February 2018
Packaging Regulations - Make a Date with Kite
Let Cupid shoot his arrow and inject a bit of love back into your life!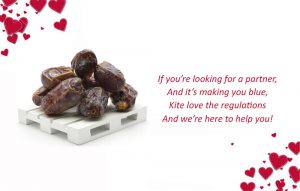 Whilst dealing with the Packaging Regulations is not all hearts and flowers we can make the process as simple as possible so you come up smelling of roses. Whatever issues you may encounter, our team of experts can help. With over 14 years of experience there are few problems we haven't encountered and solved through our love of the Regulations.
Are you having trouble with calculating your obligations? We can help. We pride ourselves on our one to one service.
We also offer a beginning to end service from assessing your company's obligated packaging, to crunching the numbers required for your annual data submission, purchasing your PRNs and submitting everything to the Environment Agency.
Whether you are looking for a little bit of help or management of the whole process, then Kite Environmental Solutions is the Compliance Scheme for you. Once on board with us we assign a dedicated Account Manager who will help, guide and support you. They will get to know your business leaving no stone unturned, it's like a match made in heaven.
Regardless of whether you are registering directly with the Environment Agency or using any other compliance scheme, our door is always open. We will tailor our service to your needs…a blossoming romance in the making!
In 2017 we were rated as 'Excellent' in an audit conducted by the Environment Agency. We are extremely proud of this achievement. We hope this proves that the team at Kite Environmental Solutions LOVE what we do and would LOVE to help you.
Call us today on 02476 420080 - we'd love to be your significant other!