Packaging Solutions For Drainage – The Packaging Doctor
As we enter the glorious summer months, and are lucky enough to be spending our days basking in the sunshine, event companies and wedding planners are entering into the height of their busy season.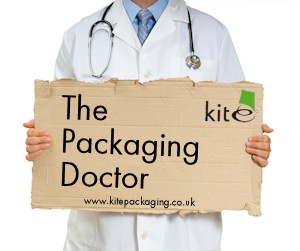 Their job couldn't be completed without a helping hand of packaging. From cardboard boxes to safely store the show stopping cake, to gift bags for table favours, packaging is essential. Not only does it provide great protection, it can also be the answer to ensuring a smooth running operation.
Today in the surgery we meet a chef with a drainage issue. Read my solution below that helped shift water and allowed the big day to go swimmingly…
Hi Doctor,
I'm the head chef at a bespoke wedding venue. Throughout the duration of the year we accommodate up to 150 weddings a year in our self-secluded marquee.
The weddings run flawlessly, however we are struggling to cope operationally behind the scenes with our current drainage system, due to limited space in the kitchens and location.
We need a solution that will help us drain the water out of the marquee into a ditch. What would you recommend?
Thanks,
Ben
Hi Ben,
Thanks for your question in the surgery today. I have a simple, yet effective, solution for you up my sleeve that will get a drainage system up and working in no time.
Have a look at our Lay Flat Polythene Tubing. This versatile packaging material is used by many industries and as it is sold as a continuous roll, it can be used on demand.
Due to the scale of events you are catering for, I would recommend looking at our 3 inch, heavy duty range. The strength of this material provides a high puncture resistance and will effectively withstand the pressure of the water, providing reliability throughout the busy wedding season.
It is so easy to implement.  With minimal set up time required, simply cut a tube to size, and run from the marquee into the ditch. The tubing will act as a drain, smoothly transporting the excess water from the marquee into the ground, creating minimal mess along the way.
That's all there is to it! Another case where packaging comes to the rescue.
Hope this helps!
Best wishes,
The Packaging Doctor

Note: All the packaging problems our doctor receives are real queries from customers or non-customers.
If you have a packaging problem that needs diagnosing get in touch on Twitter @kitepackaging or email packagingdoctor@kitepackaging.co.uk