We are lucky enough at Kite Packaging to have an amazing bunch of creative people working here. You've seen our employee's cakes, Halloween costumes, and you've even seen their kid's painted playhouses!
Well, this week Chris from our I.T department showed off his wife's handy work – with some amazing looking furniture made out of our timber pallets!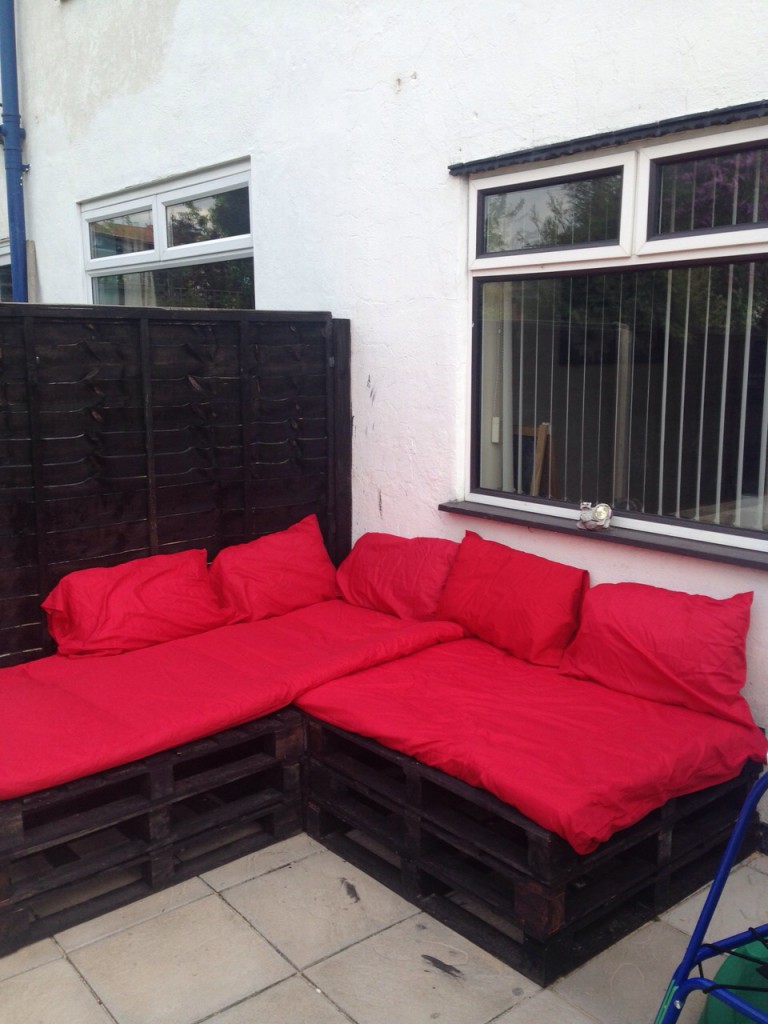 This outdoor seat was made simply by sanding down some old timber pallets, painting them with a suitable outdoor paint and following with varnish. Simply add some old mattresses or blankets on top and you have created a fantastic outdoor corner sofa.
The size of the pallets give a great amount of space, making it perfect as a chill area for the kids, or as additional seating when you have guests over for a barbeque!
But this isn't a new thing, pallet furniture seems to be a growing trend across the world, and we love it. Inspired by the rise of Pinterest and the promotion of home D.I.Y, you can make some amazing things from pallets.
Planters
If you have limited space in your garden it can be difficult to row flowers and herbs in an appropriate space. Using a pallet allows you to utilise small space and create a 'vertical' garden – with plenty of space for various plants.
To achieve this great looking garden you will need a few pallets that are intact and a couple of broken-down ones. Simply stand two pallets on their side so that they are facing each other. Work out where you want your 'shelves' to go and slot in the slats from your broken down pallets. Glue in place and then nails the two big pallets together – voila! You can now put your plants in both sides and using up very little space.
This also works well as decorative shelving inside the house, and looks great when filled with candles at night.
Bed
If you have a spare room, but perhaps not the spare cash to buy a bedroom set, then a pallet can work wonders. We love the below idea of using pallets to create a sturdy base, and then attaching fairy lights underneath so that it lights up the room!
You can even use a pallet to make a shabby-chic headboard by painting it white and threading fake flowers or fairy lights through the gaps.
Stairs
Now for something really ambitious! Perhaps not exactly a 'D.I.Y' project, as we're pretty sure you need an expert to take the stairs out of your home! But don't these look fabulous?!
They are perfect for a garage when there is extra space upstairs, or for a converted attic room. We love the authentic brown look used in this example, however you can paint them any colour for that personal touch. Why not try painting each step a different colour for a kid's room? Or spray painting them gold for a luxurious feel?
Get In Touch!
Have you made something out of packaging? Or tried your hand at any of the above projects? We want to hear from you! Share your picture on our Facebook wall or with us on Twitter and we'll send you a prize!