Pallet Wrapping Solution For A Shop Fitter – The Packaging Doctor
We are now getting into the season where many of you are getting ready for your summer holidays, however we just want to remind you to not forget the importance of packaging and the difference it can make to the cost and speed within your business - companies often underestimate this.
We are here to help and give advice on all things packaging!
Today in the surgery we meet a gentleman who is looking for a more efficient way to wrap his pallets.
Dear Doctor,
I'm positive you can help. The business is growing rapidly and we are starting to recognise that wrapping the pallets is more time-consuming that we once realised. I currently wrap the pallets by hand with two of my other colleagues; however the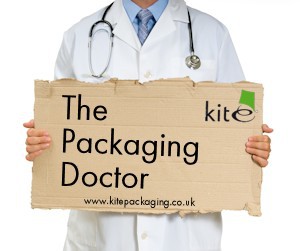 business is seeing rapid growth and I want to make much better use of my colleagues on other key projects.
I wrap up to 20 pallets per day including Saturday and Sunday. I have looked into hiring another member of staff, however thought I would turn to you before making this decision. Budget is not a concern and I am really up for suggestions.
Thanks
Tim
Hi Tim
Thank you very much for your question in the surgery today, it sounds like you and your colleagues are very busy and the expansion of the business is great news.
I have the perfect solution for you, and will definitely save you money and time, sounds too good to be true? Well, it isn't!
Let me present to you our range of Pallet Wrap Machines, available in a range of models with different programmes, you are sure to find one for your required volume. The Ecoplat and Rotoplat ranges come with a warranty of 3 years for parts and 12 months for labour and will speed up your pallet wrapping process, by wrapping pallets in seconds and will save you time and money.
Used with our range of Machine Pallet Wrap, which we supply in a range depending on your requirements, you can be sure to not look back on the time saved. Choose from 17, 20 or 23 micron thick wrap, with either standard power pre-stretch for medium duty use, super power pre-stretch for heavy duty use or ultra-power pre-stretch for maximum Elongation.
And even better, the pallet wrap machine and pallet wrap will cost you less than a new colleague and will be a great investment.
Thank you
The Packaging Doctor
Note: All the packaging problems our doctor receives are real queries from customers or non-customers.
If you have a packaging problem that needs diagnosing get in touch on Twitter@kitepackaging or email packagingdoctor@kitepackaging.co.uk