Personalise your packaging the cost-effective way
When it comes to building your brand, it can be difficult to know where to start. Today, people are thinking of new, innovative ways to get their brand name out there and now one increasingly popular method of brand building is surfacing: custom printed tape.
At face value, most businesses need tape for sealing cartons ready for delivery, but rather than just use it as the necessity that it is, why not take advantage of its lucrative potential? For businesses, custom printed tape has a range of major marketing benefits, inevitably increasing brand visibility and distinguishing your brand via packaging, setting it apart from the rest.
A key benefit of custom tape is the positive effect it has on your brand reputation, as well as providing a further layer of security to make sure goods can travel from A to B in the same condition they leave the warehouse in.  Brand building is an integral part of day to day business and packaging is often seen as an extension of the product that it contains, making it a very important element to take advantage of.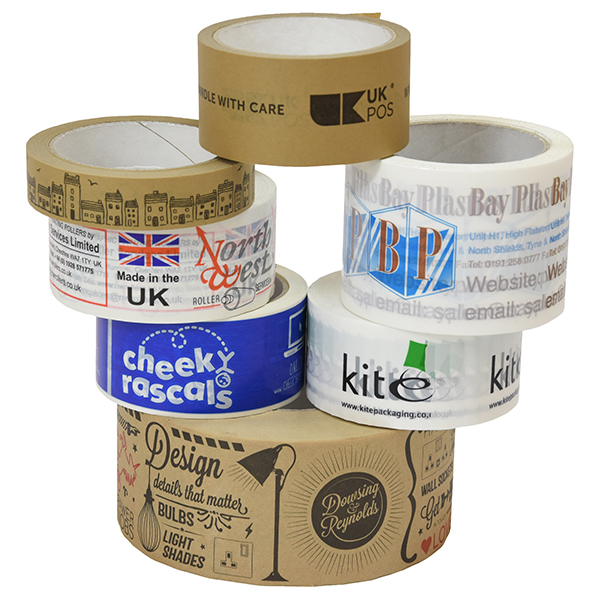 By incorporating custom printed tape into pick, pack and despatch operations, businesses can reap the benefits of solving two problems in one. By printing a logo onto tape rather than using a standardised version, businesses are increasing brand awareness and sealing cartons at the same time, therefore using one solution that protects stock in transit and advertises the business.  Honing in on this positive effect on advertising the brand, the impact that logos and custom messages have cannot be ignored, as the increased memorability will inevitably lead to repeat custom.
Another way that custom printed tape can benefit the business to consumer relationship and increase customer trust is by printing tamper-evident seals or protective handling instructions. Users can use this enhanced security to ensure customer peace of mind that their product has not been tampered with in transit. As the tape is custom printed, packages cannot be resealed without end users knowing, as any standard tape used to reseal packages will be different to the custom printed tape originally used. If businesses choose to print handling instructions on to tape, they will be able to improve the safety element, minimising any potential injuries caused from handling the packaged product.
Following on from these advantages, if we look at the millions of e-commerce packages that are shipped and received each day, we can see a demand for personalised packaging that stands out. With custom printed tape, it is the ideal contender to make both packaging and branding stand out. Businesses can look at using custom carton boxes or other bespoke packaging, but both of these will result in larger costs, therefore making custom tape a great, low cost way of personalising packaging. Alternatively, custom tape packaging provides companies with flexibility, a useful solution that can accommodate a range of specifications. By purchasing printed tape, businesses have a personalised product that can seal all different sized packages. Users can therefore create a unique brand experience without challenges from compromising size restrictions or high costs.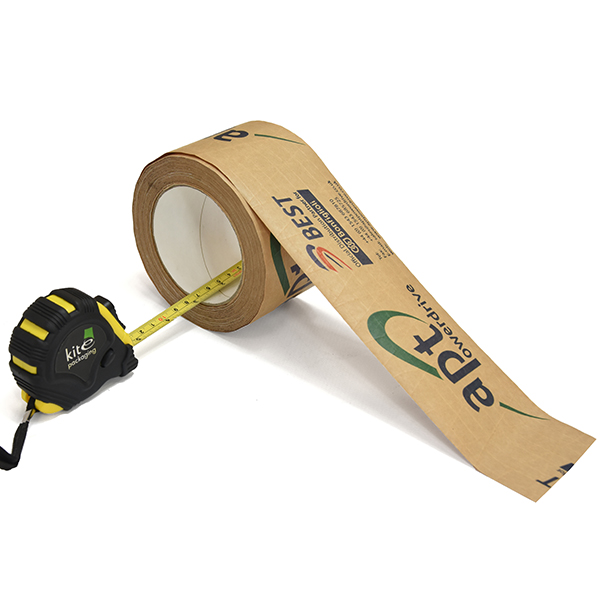 Businesses throughout the UK are looking more to this method of customised packaging that carries their brand and now customers can benefit from our new custom printed tape tool – a simple, clear-cut system to personalise packaging tape. The functionality offers a more user friendly and dynamic order process with three easy steps to create your desired customised tape and a simple reorder option for repeat order customers.
Users can choose from a range of tapes, including Acrylic (PP), Hot melt (PP) and Vinyl (PVC), or for a more environmentally-friendly branded solution, customers can select gummed paper or Kraft paper tape. There are also three backdrop colours and widths available to choose from, letting customers find the right printed tape for their business. With its low-cost brand awareness benefits and enhanced usability, our new custom printed tape provides users with a great customer experience. By implementing custom printed tape into packing operations, businesses can convey brand messages and stand out. Whether companies use custom printed tape for aesthetics or practicality, it is the perfect economical solution to geographically boost brand image throughout the globe.