Presentation Packaging For Cakes And Baked Goods – The Packaging Doctor
The Surgery Is Now Open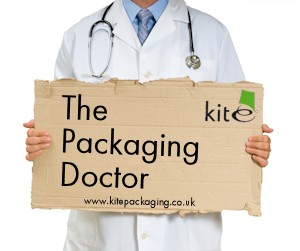 Dear Doctor,
I have just started my very own confectionery business, and sell handmade chocolates, biscuits and cupcakes. I am absolutely clueless about packaging and really need some help! They will be sold in my shop, so I want them to look pretty and professional – I've taken a look at your polythene tubing as I saw it in a previous post and liked the idea of heat-sealing but I don't think the material is quite right for my business, do you have anything else?
Thanks, Vanessa
Hi Vanessa,
Don't panic, packaging is often a minefield for many small business owners – and is generally left as the last consideration when you have been busy preparing business plan and crunching numbers.
Polythene tubing is undoubtedly a great product however I can understand it might not be right for you as it needs to be slid over products in most cases and this may damage your beautifully iced cakes! Instead I would suggest using our clear gift bags which are made from polypropylene – more commonly known as cellophane; the same material florist wrap is made from. This material provides crystal clear packaging which is excellent for point of sale presentation – they are also side gusseted with a flat bottom to allow you to place items inside and ensure they don't get squashed or turned.
These bags can also be heat sealed to ensure a professional and secure finish – ideal for food items that can be affected by moisture. As your items are small and you are starting out I would suggest using a handheld heat sealer or basic table top heat sealer depending on your own personal preferences, these are perfect for sealing low – medium volumes on a regular basis.
Best Wishes, The Packaging Doctor

Note: All the packaging problems our doctor receives are real queries from customers or non-customers.
If you have a packaging problem that needs diagnosing
get in touch on Twitter @kitepackaging
or email packagingdoctor@kitepackaging.co.uk