Presentation Packaging For Sensitive Products – The Packaging Doctor
The Surgery Is Now Open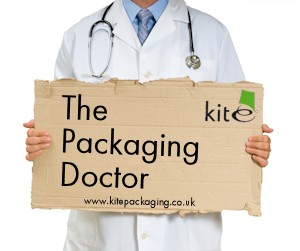 Please help us Doctor!
I work for a business that provides a very precious and important product to many couples across the UK - artificial insemination kits. These kits allow couples who may be facing fertility problems to artificially conceive in the comfort of their own home. Although this is much cheaper than private IVF treatment the product is still high-value, although very robust. Therefore presentation is of high-importance to us, and a good size box. We have a variety of products that need to be sent at one time, but generally require boxes to be 19 X 12 X 7 inches.
Best Regards, April
Dear April,
Certainly a very interesting business, and I can see why you're facing a slight problem with your packaging requirements. Often sensitive products of this nature need to be well protected but also have a presentable feel to them so that they arrive with a positive underlying message.
I would suggest using a white single wall box which looks great and of high quality, the closest measurements I could find were 20.7 x 13.8 x 8.3 inches which should be more than adequate. For protection I would suggest wrapping each individual product in bubble wrap and then filling the voids with tissue paper. Kite stock a huge range of colours so that you can pick colours to suit your businesses brand. On the subject of branding, in terms of sealing your box you could use our custom printed tape. Simply send in your artwork and we'll create as many rolls of this tape as you require. This is great for creating brand awareness and giving your business credibility, something customers are particularly concerned with when buying these types of sensitive items over the internet. If you think you require a bit more protection simply switch to a double wall box!
Wishing you the very best of luck, The Packaging Doctor
Note: All the packaging problems our doctor receives are real queries from customers or non-customers.
If you have a packaging problem that needs diagnosing
get in touch on Twitter @kitepackaging
or email packagingdoctor@kitepackaging.co.uk