Presswood Pallets For Air Freight
Why Presswood Pallets?
We have always been advocates of presswood pallets for our warehousing and logistics customers, due to the many benefits they offer. As an environmentally-conscious business we support the manufacture of presswood pallets over timber as they are made from reclaimed and recycled wood pulp, which are durable enough to be re-used. Once they are disposed of they can also be recycled again, creating a renewable material time after time.
As well as environmental benefits presswood pallets are also ideal when space is at a premium, they have a 'nestable' design which means they can easily stack together and are lightweight (up to 5 kg lighter than full-sized timber pallets) so they can be moved easily. Because they are moulded under high pressure and at a high temperature they are also ISPM15 compliant. ISPM15 is a directive that enforces the need to treat wood packaging with chemicals before export, however because of the conditions presswood pallets are manufactured under they require no extra treatment, and are ready to export worldwide at no extra cost.
All these factors are brilliant for your packing operation, particularly when pallets of goods are the main throughput of your business, but what about price? Pallets are a large cost for logistics operations, and keeping the prices as low as possible is a major concern for users.
At £12.91 each in the first price break, our 800mm x 1200mm timber pallet is more expensive than our presswood pallet of the same size which stands at £10.33. However, there is even more cost savings to be had in terms of air freight...
Consider this:
Air freight costs on average £2.50 per 1 kg of weight
So a 800mm x 1200mm timber pallet weighing 12.5kg costs £31.25 to send
And a 800mm x 1200mm presswood pallet weighing 9kg costs £22.50 to send – that's almost a £10 saving!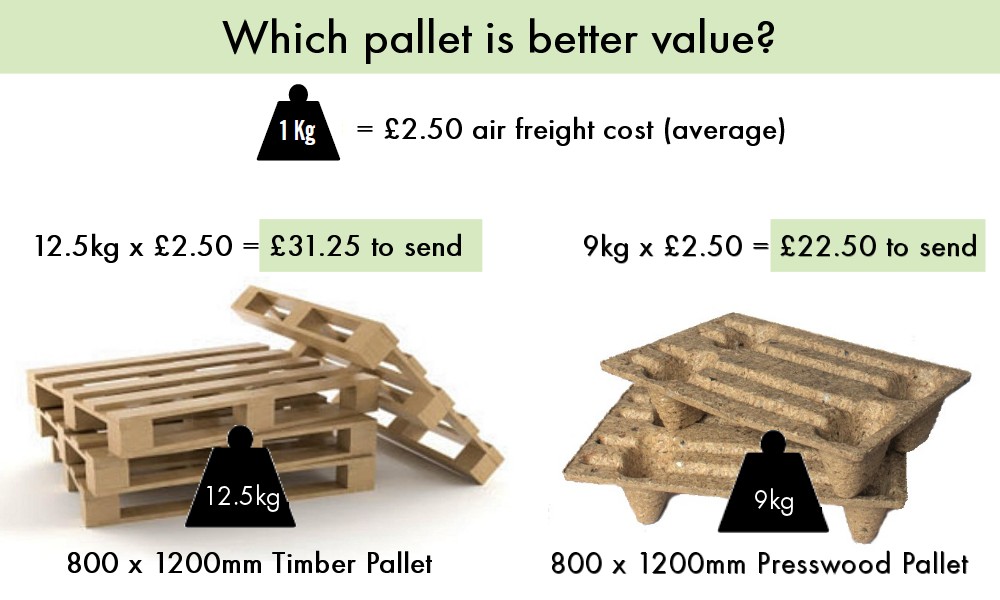 It's easy to see how lightweight packaging materials can make a real difference to shipping. Not only this but when considering heavier duty pallets such as our heavy duty presswood pallet, it also benefits from having a higher load capacity. Kite's heavy-duty presswood pallets have a load capacity of 1250 kg, when compared to a timber pallet capacity of 900kg you can see how space can be saved as well – larger capacity means fewer pallets, fewer pallets means fewer pallet spaces on a truck and this means a more cost-effective operation!
Managers Special
40% OFF PRESSWOOD PALLETS
Enough of the maths, right now you can take advantage of all the benefits presswood pallets have to offer at an even cheaper price! We have reduced our heavy duty presswood pallets, 1000 x 1200mm with 4-way entry design and a capacity of 1250kg to just £9.99 each, reduced from £16.91 – that's £49.95 a pack – a massive 40% saving.
This not only makes them cheaper than timber pallets but also cheaper than our popular plastic pallets of the same size. But remember this is a limited time offer so be quick!
To make our Manager's Special even more tempting, our senior management team has introduced two further pallet offers to the mix, because what's a pallet without tape and stretch film?
OUR MOST COMPETITIVE PRICE BREAKS FOR SMALLER QUANTITIES
You can now buy half a pallet of our most popular brown acrylic packaging tape (1620 rolls) for just £620.46, reduced from £636.66. To get you this price we have taken our most competitive price break, usually reserved for full pallets of goods only, and applied it to a half pallet – giving you a great saving. This philosophy has also been applied to our extended core pallet wrap – which is designed to handle easily with a longer middle core for easy application. It is 20 micron thick, ideal for heavy duty pallet wrapping and for a limited time only half a pallet can be purchased for just £888, reduced from £936.
All these packaging materials have been chosen because we know that logistics and warehousing businesses are even busier in the final quarter, and preparing goods for export in time for Christmas. So what are you waiting for? Head to our Manager's Special page now to buy or if you need further advice call the team on 02476420065.